Environmental sustainability can shape the future of every market player in the road freight sector. Companies define sustainability goals, which they put into practice in different ways. To find out more about their strategies, DHL Freight, together with the German Logistics Association BVL and the location data and technology company HERE Technologies, surveyed a good 100 companies from industry, trade, and logistics services for a study.
"Sustainability in Logistics – Fleets and Alternative Drive Technologies" – the Study
What are the challenges in CO2 reduction? Which approaches are the most promising? What role do alternative drives play in fleet development? What are the expectations and plans for the future? All these questions focus on the present and future of sustainable road freight.
A total of 30 questions on sustainability efforts and current fleet configuration could be answered by participating companies on a rating scale of 1 (very low use) to 7 (very intensive use). Respondents were also asked to identify barriers to the adoption of sustainable road freight. The answers show where the companies stand today – and where they are heading.
Transport Logistics: Hydrogen Is a Demanded Future Technology
The preferred truck drive technology for the upcoming years is hydrogen (5.09). Only then does electromobility follow (4.77). Diesel drive (4.40) also still plays a role. Gas drives (LNG or LCNG with 3.82 and 3.09 respectively) are considered to be of relatively little importance.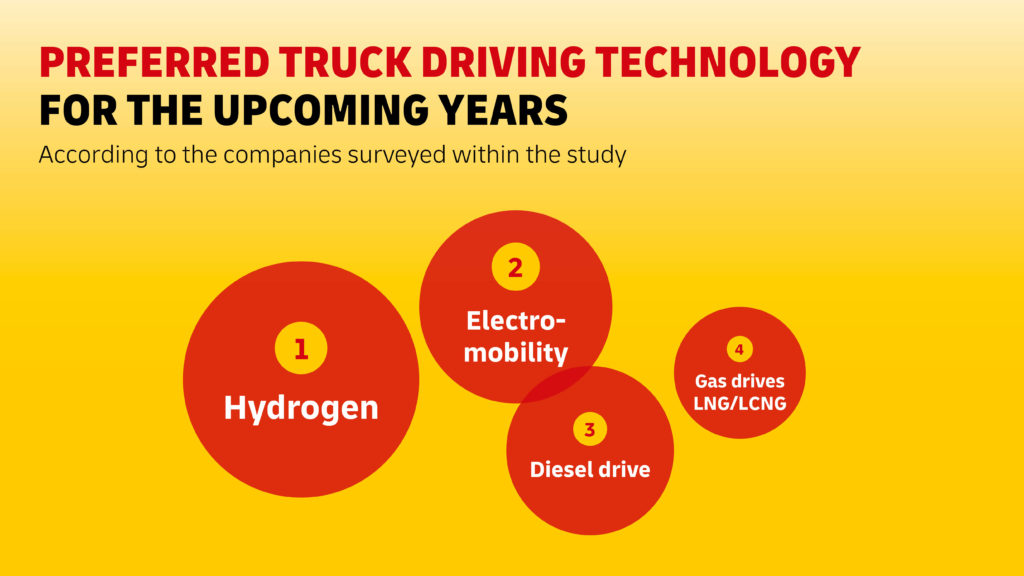 According to the survey, a rapid shift away from diesel is being impeded above all by the low availability of reliable alternative drives and the inadequate charging and refueling station network. This is one of the reasons why only 35% of companies specify a date from which they intend to operate their fleet carbon-neutrally. The most ambitious in this respect are the logistics service providers. On average, they want to achieve climate neutrality from 2033, while industry and trade will only follow suit two years later.
Among transport companies, there are still relatively few that are intensively involved with the various alternative technologies. Currently, diesel dominates – which is not surprising, since the availability and maturity of alternative technologies are currently still very limited.

Dr. Christoph Schönwandt Head of GoGreen DHL Freight, in the BVL Podcast on the study "Sustainability in Logistics – Fleets and Alternative Drive Technologies"
GoGreen Plus mit DHL Freight
Given the sometimes still hesitant implementation of sustainability targets in transport logistics, DHL Freight aims to be a pioneer and reduce all logistics-related emissions to net zero by 2050 in line with Deutsche Post DHL Group's voluntary commitment. Through carbon insetting, we invest directly in green technologies and fuels within our own network. With the GoGreen Plus service, DHL Freight customers can participate.
Dr. Christoph Schönwandt, Head of GoGreen DHL Freight, together with Christoph Herzig, Head of Product Management Supply Chain Solutions at HERE Technologies, and host Boris Felgendreher explain the results of the sustainability survey in a BVL podcast dedicated to the study.
If the podcast does not play automatically, please click here (German only).
Info
All relevant results in the video (German)
In our webinar, Christoph Herzig and Dr. Christoph Schönwandt, moderated by Dr. Martin Schwemmer, present the study results on the nationwide use of alternative drive technologies. You will receive practice-proven expert knowledge in terms of sustainable road transport in the following video.