The political events of 2022 have once again demonstrated how important intact logistical supply chains are for the global economy and the population. This is also reflected in the future trends and challenges in logistics. Here, the focus remains primarily on aspects of digitization, but with an increased attention to making supply chains more resilient through transparency, networking, and automation – without sacrificing sustainability. In this outlook for 2023, we present important developments for the coming year.
International Trends in Logistics 2023: Digital in a New Framework
Networking, robotics, Big Data, AI, or Blockchain: As far as the keywords of the logistics trends 2023 are concerned, there are basically no obvious changes compared to the trends 2022 and their innovation approaches. What is new is the experience of the last twelve months. When a major (and in many areas the most important) supplier of raw materials and producer of consumer and industrial goods withdraws from global trade, supply chains come to a standstill. While in 2021 many production sites were shut down, in 2022 closures occurred only in China. Nevertheless, the effects were felt worldwide.
A second, enduring lesson for the logistics of the future has been provided by the Russian attack on Ukraine. If one transport mode fails completely – in this case the sea route across the Black Sea until the grain export deal between Russia and Ukraine – this can even lead to hunger on another continent. Of course, sea freight is not substitutable as such due to its cargo capacity, but a better rail network between Ukraine and Mediterranean, Baltic, or North Sea ports could have at least mitigated the shortfall.
Multichannel Logistics: More Important than Ever in 2023
The year 2022 has thus shown more than the previous years that one-dimensional supply chains can break down under certain conditions. For this reason, multi-channel logistics, considering all relevant modes of transport, will become even more important in 2023 and beyond. Alternative options – rail instead of ship for continental transports or road instead of rail – can compensate for overloads, overcome congestion, and maintain the supply chain.
Where Is the Global Economy Heading?
Following the events of the past year, the focus is inevitably not only on the efficiency of supply chains, but also on their resilience and flexibility – notwithstanding the fact that climate protection as a millennium task has lost none of its urgency.
This is compounded by the current economic situation, which is characterized by global inflation and the threat of recession. If the global economy continues to move toward recession in many countries, consumer demand is likely to decline in 2023. A drop in demand could be contrasted with oversupply, creating new difficulties for companies and their supply chain design. This is where careful planning and reactive capabilities are needed.
"The events of the past two years have illustrated the importance of robust supply chains and functioning logistics. We believe that inspiration and innovation, open exchange and intensive cooperation are crucial for success in the future."

Katja Busch Chief Commercial Officer DHL and Head of DHL Customer Solutions and Innovation
Intelligent Use of Capacity in a Digital Supply Chain
The skills shortage in the transport industry will continue in 2023. This will make it increasingly difficult to meet customer demand adequately. For service providers in the logistics industry, it is now of particular importance to plan transports with foresight, to make optimum use of existing freight capacities, and to eliminate inefficiencies. This will not be possible without comprehensive digitization. In 2023, it is hence important to start on the path to digitization or to pursue it consistently.
A consistent digital supply chain rests on three pillars:
Networking of the process participants via cloud applications or blockchain technology
Networking of vehicles, shipments, and warehouses by means of sensor technology and Internet of Things solutions
Artificial intelligence (AI), to understand mistakes and learn how to avoid them in the future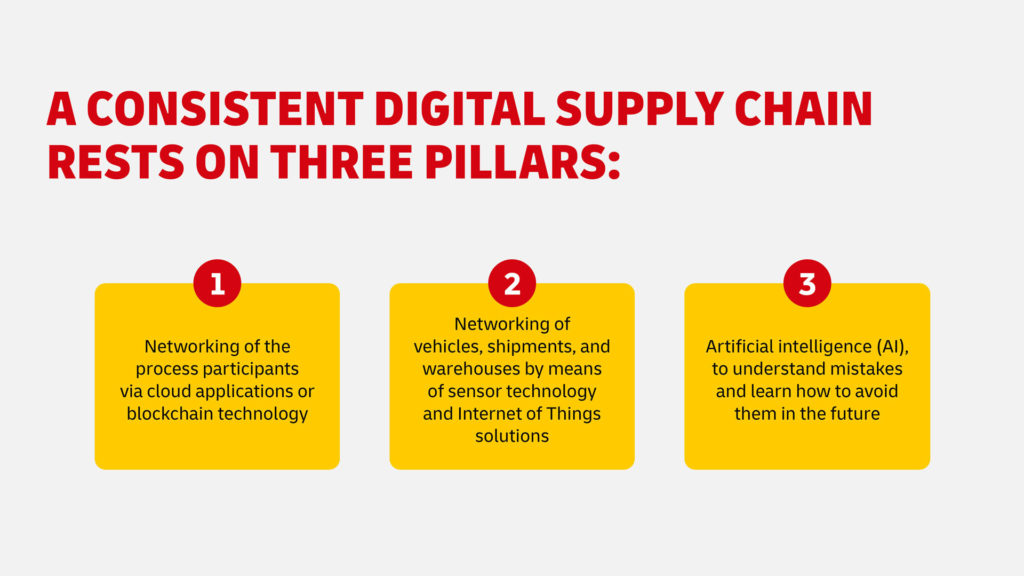 Data exchange and evaluation in real time create transparency in the supply chain and make it possible to control and monitor the individual links. Capacities are better utilized and future demand is deliberately planned. Because when logistics companies have real-time delivery data, they can better match demand with human resources or available freight capacity. The entire supply chain becomes more efficient and resilient.
Realizing the Significance of Transparency
Technical options for supply chain transparency already exist in the form of cloud, blockchain, or AI – but they are still being met with a certain reluctance to actually use them. The adoption of technical innovations for end-to-end supply chain transparency is by no means the standard.
After the events of 2022, that could change in 2023. The next risks are waiting in the wings: a possible global recession, new closures and conflicts, or noticeable climate impacts. Today, transparency for managing the risks in the supply chain is more important than ever. Because if the supply chain is at risk, it is a matter of deciding in good time on a practical transport alternative that is actually available (keyword: multichannel). Comprehensive evaluation of data from a transparent supply chain can identify the best possible options.
Legislative Amendment in Europe's Largest Economy: The German New Supply Chain Act
At least players in the German market have another reason for more transparency: In Germany, the Act on Corporate Due Diligence in Supply Chains comes into force on January 1, 2023. The law regulates the responsibility of companies for compliance with human rights and ecological standards throughout the supply chain. The companies affected are those with a German principal office, secondary residence, administrative office, or statutory seat (initially with at least 3,000, from 2024 with at least 1,000 employees in Germany). These companies must implement risk management with regular reporting to prevent human rights violations or environmental hazards.
In France, the comparable "Loi sur le devoir de vigilance" was already adopted in 2017. What is crucial and challenging about both legal requirements is that they do not limit due diligence to the company's own business activities, but extend it to contractual partners and suppliers. The first thing that comes to mind might be production facilities in Southeast Asia and the working conditions prevailing there, but the law also relates to logistics services.
So, transparency is required along the entire supply chain. Because there are less rigorous requirements elsewhere, some experts fear disadvantages for German participants in the global market – whether these will actually materialize remains to be seen in the near future.
Automation Continues to Be the Trend
In addition to the increasing importance of Big Data, networking and transparency, the automation of logistical work steps will also become more prevalent. The automatic colleague has long been part of everyday life in transshipment points and logistics centers: as an autonomous mobile robot, shelf robot, or autonomous drone for inventory – all doing a great job in warehousing. But as far as the use of autonomous delivery vehicles on the road is concerned, this is still a mid term goal and cannot be achieved in the short term.
One trend that is already relevant for 2023, however, is the use of robotics in warehouse management or customer care. Software bots can, for example, answer customer inquiries about delivery status or manage product returns.
Sustainable Logistics Trends: Green Logistics
Logistics is the backbone of the local and global economy and will remain so in the near future. Nevertheless, it is also one of the world's largest emitters of greenhouse gases and is currently responsible for a good 20 percent of global CO2 emissions. Green Logistics therefore remains the mega trend in logistics. In addition to the ecological necessity of reducing this level of emissions, sustainability in logistics is increasingly becoming an economic success factor. Nowadays, many customers and business partners make business decisions dependent on the sustainable management of other parties.
DHL Freight offers the GoGreen Plus service as part of its commitment to reduce all logistics-related emissions to net zero by 2050. Based on the principle of carbon insetting, DHL Freight invests in green technologies and fuels to avoid emissions directly within its own network.
Insetting instead of offsetting, the latter referring to investing in projects elsewhere to compensate for emissions, is a sustainability trend already mentioned. Apart from that, less is more: less energy consumption and less packaging. Improved drive technologies, energy-efficient heating and lighting systems, solar panels on warehouse roofs, and packaging made from recycled materials or renewable raw materials also contribute to greener logistics – and last but not least: optimized process management.
The good news is that the technical innovations outlined above – networking, automation, etc. – pay directly into the eco-balance because they all promote process optimization. And optimized processes are energy-efficient processes. This involves delivery vehicles that are ideally utilized, a reduction in empty runs, and storage capacities that meet demand. The lower the resource consumption, the better the eco-balance.
Trends in Logistics 2030
What comes after AI or Big Data analytics? Technical applications are constantly improving: better computers, better security technology, better coordination. Technical progress always provides surprises.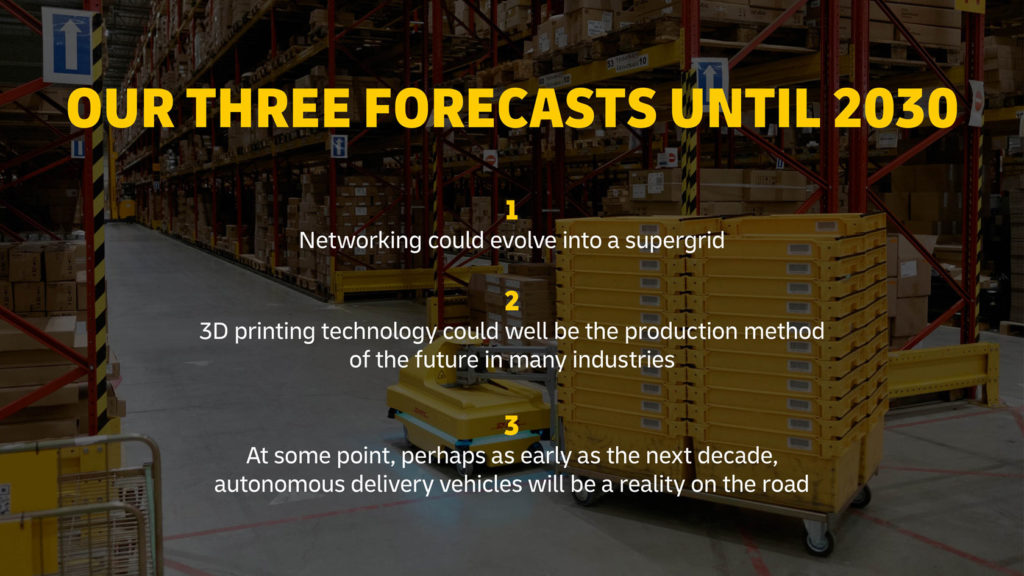 Despite all the imponderables, we venture three forecasts:
Networking could evolve into a supergrid that integrates as many supply chain networks as possible around the world and further increases transparency.
3D printing technology is still considered a gimmick by many. However, it could well be the production method of the future. As the technology has advanced and matured, its acceptance in the automotive, medical, and aerospace industries has expanded to larger batch sizes and a wider range of objects and materials.
And at some point, perhaps as early as the next decade, they will be a reality: autonomous delivery vehicles – not only in logistics centers, but also on the road.
Conclusion on the Outlook for 2023 and the Future of Logistics
Alongside the perennial issues of digitization and sustainability, resilience is the key word in logistics for 2023 – and rightfully so. Following the strains caused by the COVID 19 pandemic in 2020/21, supply chains were again subjected to a tough stress test in 2022 – and not all of them withstood it. What might initially have been considered a pandemic-related, temporary phenomenon has unfortunately turned out to be permanent: vulnerable supply chains. Increasing their resilience is the challenge of the coming year.
The positive aspect is that digital, sustainable, and resilient measures interact and reinforce each other. Those who introduce new technologies also help to master the ongoing major task of reconciling logistics and nature – without jeopardizing the profitability of logistics companies. The upheaval in the economy continues and the decisive factor is to play a positive role in shaping it.