Flowers bring joy to many people all year round. But once in the year, the demand skyrockets. Roses in particular are a sought-after gift for a loved one on February 14, the day of love and romance. For retailers and especially for transport service providers, this increase in logistics for perishable goods is a tremendous challenge to ensure that no lover goes empty-handed on this day.
Flowers for My Valentine: Quality Logistics Despite Quantity
According to legend, St. Valentine married lovers in Rome against a ban and was executed for it on February 14, 269. His memorial day is celebrated in many countries all over the world as the day of love. However, the memory of the third-century saint is unlikely to play much of a role today when someone presents a loved one with a bouquet of flowers for Valentine's Day.
Also, not many flower buyers consider the logistical processes making it possible that there are enough flowers in the stores for everyone. In fact, the effort is huge, because the transportation of flowers or other plants requires special care. Plants are delicate. The higher demand for flowers on Valentine's Day requires long-term and accurate planning to ensure that the extra quantity of plants does not lead to poorer quality in transport and that the flowers arrive intact at the retailer and, ultimately, to your loved one.
Perishable Goods Logistics is Always a Challenge
There is a logistical feat behind a beautiful Valentine's bouquet. First of all, the flowers in the wintertime necessarily have travelled a long way. Especially for the roses popular for Valentine's Day, it is now much too cold in Europe. But even when it is warmer here – and despite large greenhouses, especially in the Netherlands – European production cannot meet domestic demand.
Strongholds of global flower production are located in countries at or near the equator, where favorable climatic conditions prevail throughout the year, such as Ecuador and Colombia in South America or Kenya and Tanzania in Africa. Here, the large flower farms are quite often near airports. Time is a crucial factor when it comes to fresh goods. For this reason, the flowers are usually transported by air freight from the place of production. For cut flowers, no more than three days should elapse between harvesting at the flower farm and the vase in Europe.
Precise temperature management maintains the right climate throughout transportation, while different temperature levels may be necessary for different flowers. Humidity levels must also be appropriate, and it must be noted that some types of flowers are not compatible with certain other types of fresh products.
When the flowers have arrived in Europe, they are reloaded not only quickly but also extremely carefully for further transport over land. Consider this: shortly before, they have grown in the equatorial sun, then been cut and well-tempered for transport, and now it is important to avoid cold shock. The quickly perishable goods must not be stored incorrectly or for too long. In a few hours, everything must be ready for onward transport.
Well-rehearsed processes and know-how in handling the delicate cargo throughout the supply chain are the prerequisite for unclouded Valentine's Day joy.
Increased Demand on Exactly One Day
In logistics for fresh flowers, the particular challenge is the additional demand at peak florist sales times. Not only is it significantly higher, but it also only lasts for a very short time. After one day, it's all over – and this applies not only to Valentine's Day, but also to Mother's Day, for example.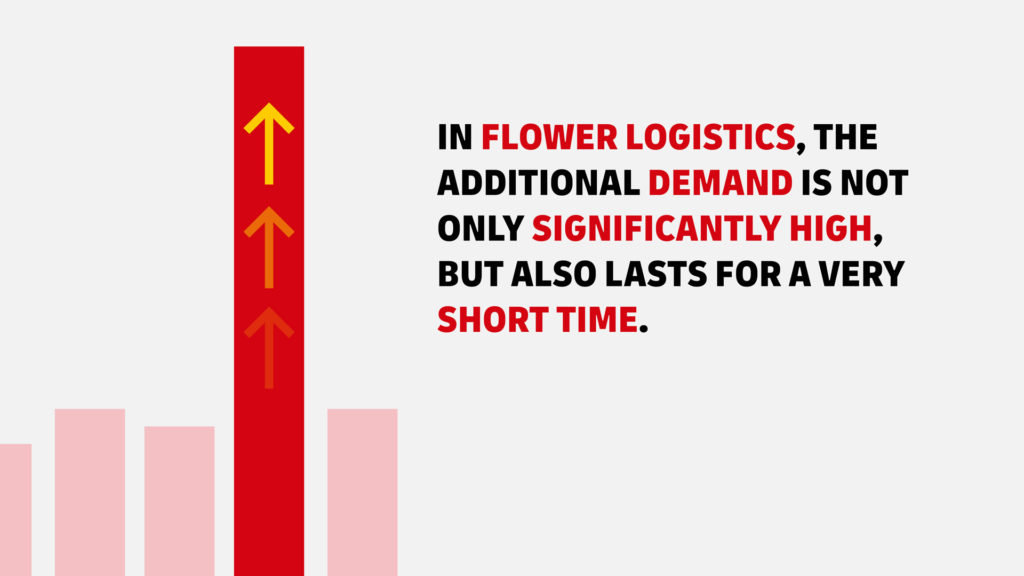 Meeting such a high but short-term demand requires extensive coordination of all parties involved in the supply chain. Joint planning is carried out for these dates to ensure that the required quantities of cut flowers are available in the stores and that no hopeful Romeo or Juliet in love has to leave the flower store unsupplied.
Whether It's Flowers or Vases: Tailored Logistics Concepts from DHL Freight
On Valentine's Day and all year round, you can count on DHL Freight to deliver your shipment appropriately and with the utmost care, whether it's flowers or ceramics: We offer you a solution that fits exactly what you want to transport. For the common goal of getting your freight to its destination safely, quickly, and sustainably – in this case, to your loved ones.