With a new intermodal transport solution between Denmark and Denmark, DHL Freight reaches another milestone in the implementation of its sustainability strategy. Since the beginning of May, DHL Freight trains have been running three times a week to and from Duisburg in Germany and Padborg in Denmark – this saves large amounts of emissions and is an effective element of environmentally friendly logistics.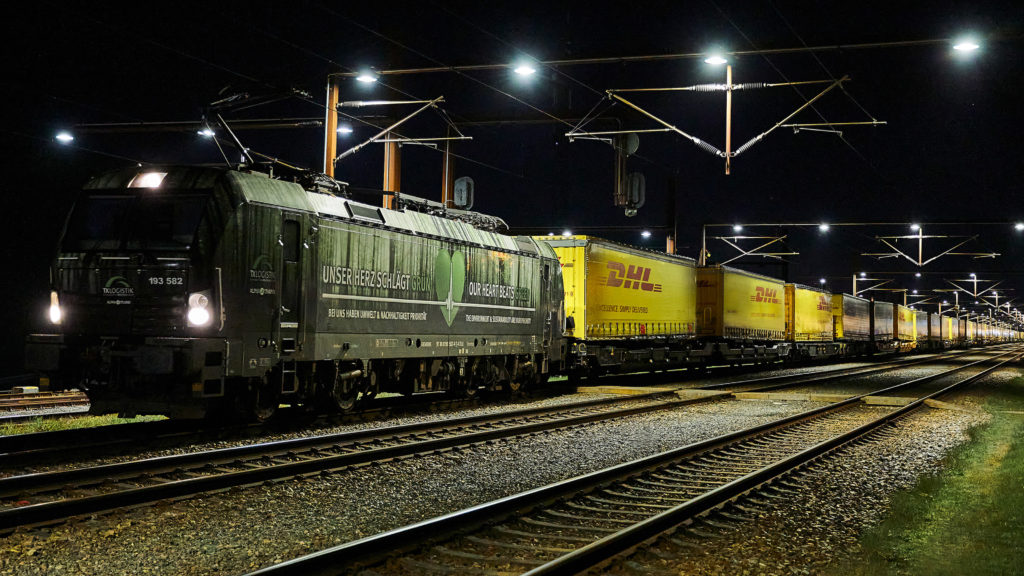 Smooth and Reliable Logistics between Denmark, Germany, and Benelux
Every Monday, Wednesday, and Friday, freight trains leave the intermodal terminal in Duisburg, while departures from Padborg take place every Tuesday, Thursday, and Sunday. The trip takes about 12 hours each way and can be booked as a full load. It goes without saying that DHL Freight also offers door-to-door delivery with on-site pickup and end-customer delivery. After all, an intermodal concept should combine the best of both worlds: sustainable rail freight over the long haul and targeted road freight over the first and last mile.
DHL Freight's partner and operator of the train connection is the rail company TX Logistik, which has an efficient rail network with connections to eleven countries.
Rail Freight Reduces Emissions
Increased use of the rail network between Duisburg and Padborg will significantly reduce road traffic: up to 240 truckloads can be carried by rail each week. As rail freight is the most sustainable mode of transport with the lowest emissions, significant CO2 savings are the natural consequence. For every truck replaced, 1.05 tons of pollutant emissions are saved – that is up to 250 tons per week and up to 11,500 tons per year. When combined with DHL Freight's GoGreen Plus service for pickup and delivery, customers also have the opportunity to noticeably reduce road transport emissions.
Deutsche Post DHL Group is consistently pursuing the goal of reducing all logistics-related emissions to zero by 2050. To achieve this objective, DHL Freight has developed a Green Technology Roadmap to approach the goal step by step with short-, medium- and long-term solutions. In addition to, among other things, drive and fuel technologies, intermodal solutions and the increased use of rail connections play an important role in the roadmap.
We are introducing this new train connection exclusively for our customers. In line with our sustainability strategy of net-zero emission logistics by 2050 and the growing demand from our customers for green transport solutions, a modal shift from road to rail on certain relations is a powerful lever to save CO2 emission. We expect this new rail service alone to save up to 11,500t CO2 emissions per year. A perfect complement to our recently introduced GoGreen Plus service.

Uwe Brinks CEO DHL Freight
In cooperation with various railway agents, DHL Freight already today transports freight in more than 3,900 trains on different routes through Europe. In Germany alone, DHL Freight moves more than 970 trailers by rail in heavy-load transport every week.