Most people will inevitably think of cryptocurrencies when asked about blockchain. But blockchain technology can be just as valuable for other complex processes such as the logistics supply chain. It enables all parties involved to exchange data transparently and efficiently, and it is also secure because the data in the blockchain cannot be manipulated. How does this technology work and what is the specific potential of blockchain for logistics?
What Is a Blockchain?
Blockchain technology has become known to more people than just IT insiders as a tool for financial transactions that can be processed without access to the established banking system. At the latest with the introduction of the cryptocurrency Bitcoin, which is based on blockchain technology, blockchain has emerged from its niche. Many are familiar with the term, but what does it mean?
The basic idea behind blockchain is to store transactions and data in decentrally organized computer networks in a way that is transparent and tamper-proof for all participants. A blockchain is essentially a decentralized database, a kind of shared registry. The network consists of computers with equal rights that are connected via a common log. All participants in the network have unrestricted access to all information but cannot change the data stock itself, only add to it.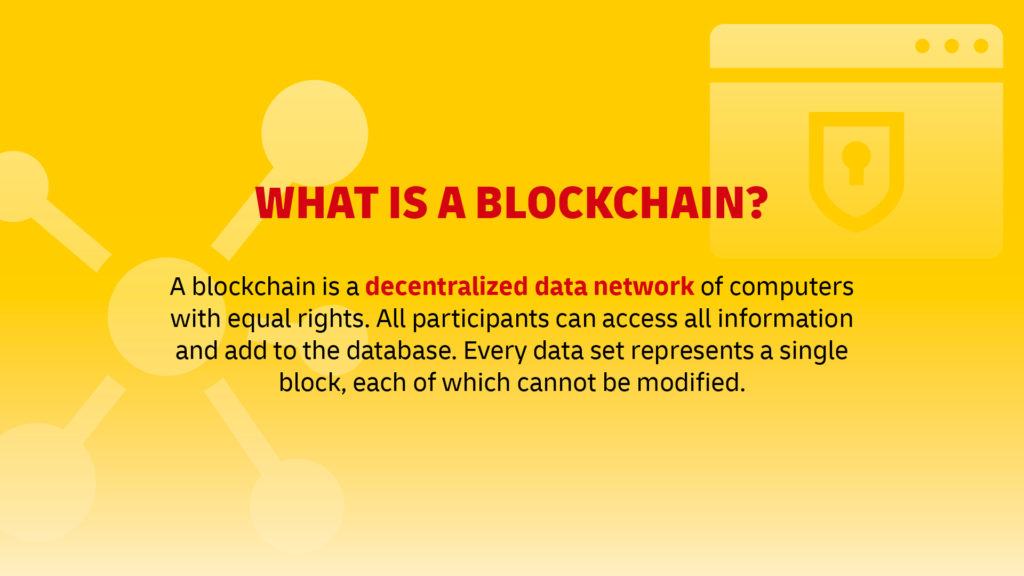 How Does a Blockchain Work?
It is therefore not possible to change entries in a blockchain database. The blockchain is updated solely by extending it. Each set of data constitutes an individual block, which is generated according to a predefined procedure and is attached in a cryptographically secured manner to an existing chain of data blocks: that is why it is called a blockchain.
The links between the individual data blocks are called hashes. Each block has a cryptographic seal, the so-called hash value. A new block takes over the hash value from the preceding one and is assigned a new one. In the process, the entire chain is continuously monitored: every time a participant enters new data, it is transmitted to the entire network in encrypted form, which prevents the information from being tampered with. Because of this, a blockchain is not only transparent, but virtually tamper-proof.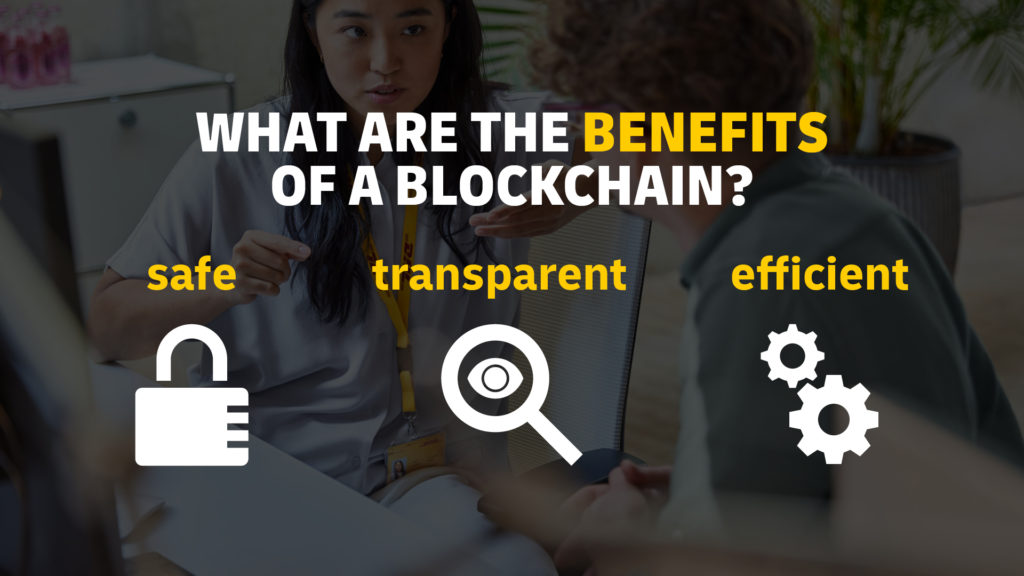 What Are the Benefits of a Blockchain Over a Traditional Database?
Compared to central database solutions, a blockchain network is characterized by more security, transparency, and efficiency.
A blockchain is secure because all transactions are recorded throughout the chain and cannot be manipulated. No one can delete a transaction.
A blockchain is transparent because all data is stored in each node of the network and is fully and instantly available to all network users.
A blockchain is efficient because it eliminates the need for time-consuming data reconciliation. In addition, content is automatically verified and external validation is not required.
Blockchain Technology in Logistics
Achieving excellence in logistics requires many partners to collaborate and constantly optimize the flow of physical goods as well as the complex flow of information and financial transactions. It is therefore quite obvious that the potential of blockchain technology can be fully exploited in the management of logistics supply chains.
The blockchain provides all parties involved in the supply chain with unrestricted insight into all transactions. Information about the status or location of a good is available in real time, and all relevant documents and shipping data can be accessed at any time. No one is excluded from information, as it is impossible for information to be shared covertly, so some participants may not have access to it.
In the supply chain, every transaction can be secured via the blockchain. Whether, for example, a good actually originates from a certain area can be traced step by step via the blockchain right back to the first entry. Once entered as a block in the chain, a transaction can no longer be modified – everyone can rely on this.
In addition, payment transactions can also be processed efficiently via the blockchain. Digital contracts integrated into the blockchain – so-called smart contracts – contain all contract details. When the necessary conditions are met, financial transactions are initiated automatically. Blockchain can also support the automation of processes in other areas, such as warehouse technology and load planning, through greater data security. More automation means more efficiency.
Blockchain and Logistics: Use Cases
Examples of blockchain logistics already in practice or currently being evaluated include:
Blockchains for international container logistics to automate global trade through data transparency and security. A transcontinental transport by ship requires numerous steps and coordination. Reliable documentation in the blockchain simplifies the process.
Blockchains for digital and automated customs clearance. All information is available at all times to all parties involved (consignor, consignee, logistics service provider, customs authorities) and is updated in real time.
Blockchains to maintain food freshness and safety across the entire supply chain.
Blockchains for sustainability to ensure a high standard of sustainability by means of transparent traceability.
Blockchain Technology at DHL
To fully realize the potential of blockchain technology for logistics, Deutsche Post DHL Group has allocated a budget of 100 million euros for the implementation of blockchain applications by 2025. Ongoing blockchain projects include the global delivery of spare parts to the car manufacturer Nissan. In the area of cross-border e-commerce, DHL is also cooperating with online retailers in test series to optimize goods traffic in this segment with the help of blockchain technologies.
As for DHL Freight, it is actively involved in projects exploring the use of blockchain technology through its subsidiary, customs service provider Gerlach Customs. In this context, DHL is participating in the Open Customs Blockchain working group, which is supported by the Open Logistics Foundation and coordinated by the Fraunhofer Institute for Material Flow and Logistics. The common goal of all parties involved: the end-to-end integration of customs and logistics processes in foreign trade using blockchain technology to make cross-border processes tamper-proof, trustworthy, and efficient.
Customs clearance is highly regulated and characterized by divergent rules and requirements of the respective countries. The authenticity of the circulating information and data is sometimes difficult to verify for authorities and other stakeholders. To achieve deeper integration and interconnection of digital customs proceedings, it is of foremost importance to strengthen trust in the data provided. Blockchain technology is ideal for this. Existing regional solutions are proving the practicability of blockchains in customs. The Open Customs Blockchain working group now aims to implement blockchain technology on a broad scale. To this end, partner customs organizations are currently being sought to implement this solution in their respective countries.
Frequently Asked Questions
What is a blockchain?
A blockchain is a decentralized data network of computers with equal rights. All participants can access all information and add to the database. Every data set represents a single block, each of which cannot be modified.
What are the benefits of blockchain technology?
The three main advantages are: security, because a blockchain cannot be tampered with; transparency, because all data is available to all participants; efficiency, because data reconciliation and validation measures are not required.
Why does blockchain technology offer added value for logistics?
The blockchain provides transparency in the supply chain about all relevant data, documents, the status or location of goods in real time. This allows transactions in the supply chain to be secured and processes to be accelerated.
How is DHL implementing blockchain technology?
DHL is participating in blockchain projects with an additional budget to help the technology become widely applicable in logistics. These include projects in the areas of spare parts supply, e-commerce, and customs clearance.