A manufacturer produces a commodity that is bought by an end customer – and that sounds simple enough. However, many decisions and processes are necessary so that a product not only reaches its destination, but also everyone involved is satisfied with the result: manufacturer, intermediary, service provider, and customer. The tasks required for this constitute distribution logistics. This essential aspect of logistics is presented here.
What Is Distribution Logistics?
Distribution logistics is also referred to as sales logistics. It represents the link between a company's production and sales activities. The aim is to bring commodities from a company to its customers and to control this physical flow of goods in a targeted manner and make it as efficient as possible.
Distribution Logistics: Definition
Distribution logistics is the sum of all processes between production and the customer. These processes result from planning, managing, and controlling the storage, handling, and transport of goods.
Simply put, distribution logistics encompasses all the activities required to get a company's products to the end customers as quickly, precisely, and economically as possible. An example of a work step in distribution logistics is outbound goods. Conversely, inbound goods is an essential part of procurement logistics, which is the counterpart of distribution logistics.
Objectives of Distribution Logistics
Distribution logistics has a direct influence on the customer experience and the business success because it is all about how the goods reach the customer. Two overarching goals may be derived from this:
customer satisfaction
minimization of logistics costs (packaging, transport, warehousing, order processing) without compromising delivery quality and customer satisfaction
In addition, distribution logistics should ensure for a company:
high availability, so that customers acquire a product as quickly and conveniently as possible (which in turn contributes to customer satisfaction)
potential influence on the distribution and marketing of their products
Tasks and Realization of Distribution Logistics
To achieve these goals, decisions must be made at three levels in distribution logistics:
overarching strategy
tactical design of distribution processes
operational execution.
These levels result in corresponding tasks for distribution logistics:
strategic tasks: These include, for example, determining a distribution channel, planning of warehousing with the selection of distribution centers, deciding on IT management systems, marketing strategy, and establishing cost-efficient distribution networks.
tactical tasks: decision on the use of own means of transport or the assignment of transport logistics to experienced service providers such as DHL Freight; definition of the level of service; selection and dimensioning of the necessary means of transport
operational tasks: order processing, order picking, packaging and shipment, load and route planning, customer service or returns management
Different Distribution Channels
The distribution or sales channel has already been mentioned as one of the strategic tasks. It refers to the way in which the product is delivered from the manufacturer to the customer. A basic distinction is made between a direct and an indirect distribution channel.
Direct Distribution
The manufacturing company needs its own sales team for direct distribution. The most common types of direct distribution are factory outlet, online sale, telemarketing, and still also doorstep selling. The main advantage of direct sales is complete control over the entire process – a maximum of influence. The disadvantage is the costly and time-consuming set-up and upkeep of a corporate sales department.
That is why direct distribution is only suitable for a few types of products such as:
goods sensitive to transport
complex products requiring explanation
products uneconomical for retailers to store, or
special products with a very limited customer base.
The direct distribution channel only makes economic sense if the distribution costs incurred on the company side are lower than the profit margin achieved with direct distribution.
Indirect Distribution
In indirect distribution, the company outsources the distribution of its products to one or more marketing agents. Wholesalers and retailers, for example, are such marketing agents. A wholesaler is an intermediary who buys products from manufacturers to resell them to retailers. Depending on how many marketing agents are involved, there are three different variants of indirect distribution:
one-level with only one marketing agent. Most often, this is a retailer or, nowadays, an online marketplace.
two-level: Initially, the company sells its goods to a wholesaler, who resells them to retailers.
multilevel: In this case, more than two marketing agents are involved. This model is most common in the import-export business or, for instance, in the distribution of agricultural products, where farmer's cooperatives are engaged.
Indirect distribution inevitably limits the company's influence over product presentation and other aspects of sales that it can control in direct distribution. In addition, the trade margin is reduced by that amount by which the retailers participate in the turnover. On the other hand, through indirect distribution, a greater market breadth can usually be achieved and the company does not have to carry out labor-intensive tasks in distribution logistics itself.
The target group is decisive for the choice of a distribution channel – direct or indirect, one-, two-, or multilevel. Can the intended consumer be reached by this means of distribution? Furthermore, how can high delivery quality best be implemented? The distribution channel should support the corporate goals.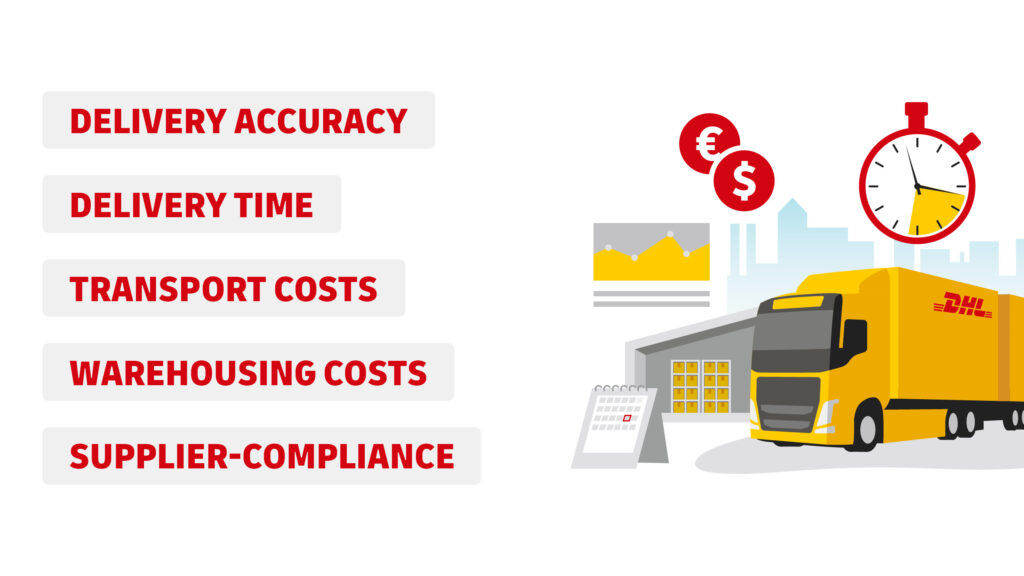 The Most Important Key Figures in Distribution Logistics
Whether the selected sales channel is a success can be determined based on the relevant KPIs (key performance indicators). KPIs objectively capture the quality and efficiency of individual operational processes or business units.
These KPIs are decisive in distribution logistics:
delivery accuracy: How many delivery orders are executed without incident?
delivery time
transport costs
warehousing costs
supplier-compliance: How efficient and reliable is the logistics service provider's performance?
Conclusion
Distribution logistics is about that part of the supply chain that is critical to customer satisfaction and loyalty. For supporting the corporate success via distribution logistics, smooth processes that ensure delivery quality, delivery accuracy, and delivery reliability are crucial.
In this critical scope of duties, it is essential that you can rely on a dependable distribution partner. At DHL Freight, we put our experience and passion to work to help you achieve your distribution goals. With us, your goods will reach their destination quickly, safely and sustainably.