With Saloodo! digitalization becomes real. Here you can find out how the Saloodo! team works and constantly develops new logistics services for shippers and carriers.
Doing things differently: How digitalization works in logistics
Even today, the road freight business still relies on analog processes. Saloodo! proves that it can be done differently. The digital freight platform connects shippers and carriers using digital tools.
Digitalization is an essential part of the Freight 2025 strategy, and DHL's innovative subsidiary Saloodo! is making a major contribution to this. Registration and use are free of charge.
Saloodo! Customer Service: One interface for all
Anyone who dials +49(0)221 989 39 222 is answered by the Customer Service Team, the central contact point for everyone. Team member Jonas Niemann and five other colleagues deal with queries and problems by phone, e-mail or live chat. For example: "A Dutch businessman has just contacted us because of a wrong store number. I am now calling the customer to find out the right number."
Saloodo! Carrier Management: Always ready to listen
The four colleagues from the Carrier Management Team have a hotline to the transport service providers. "The carriers know that we are there for them as permanent contacts," says team member Tomasz Sucharski. "That provides a sense of security." Even on a digital freight platform, the human factor may never be neglected.
Saloodo! Process Improvers: Services are increasingly user-friendly
The Business Process Optimization (BPO) team is the interface between customer service and technology.
Recommendations that senders or forwarders make to the team responsible in each case land with the BPO team.
It evaluates the suggestions and
prepares them for the four tech teams.
"In recent months, for example, we have revised the user interface for shippers. They can now access Saloodo! additional services such as anti-slip mats, or vehicles with tail lifts can now be requested," says Bastian Maxeiner, BPO teamlead. Customer feedback is making the freight platform ever more user-friendly and efficient.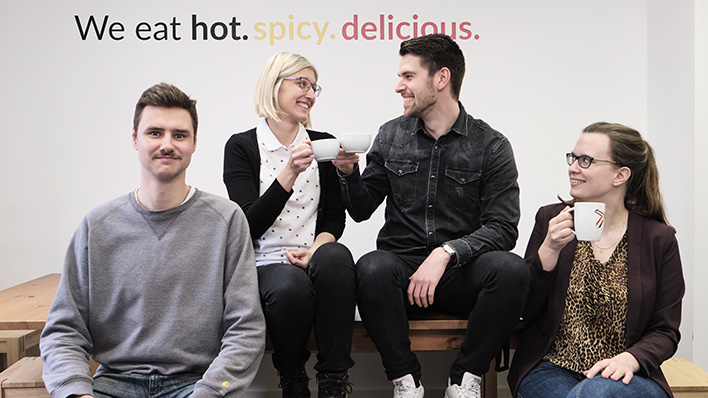 Frontend, backend, continuous progress: Real and Artificial Intelligence for top logistics services
Chief Technology Officer Elaine Tan has been with Saloodo! since its inception and leads the Frontend, Backend, Product and Data teams. After all, networking so many players involves huge amounts of data, dynamics and speed.
In contrast to classic transport management systems, which primarily support operational processes, Saloodo! networks shippers and forwarders - thus enabling the best possible placement of orders.

Elaine Tan, Chief Technology Officer, Saloodo!
These four teams drive the technical development of Saloodo!:
the Frontend team,
the Backend team,
the Product team and
the Data Team.
The Frontend and Backend teams work closely together to make the handling of the cargo platform as comfortable as possible for its users. This also includes some playful elements.
Currently in the works: the integration of an extra function in the Backend that allows carriers to indicate whether they offer pallet exchange. Many other companies have failed to digitize the highly complicated pallet exchange process, but Saloodo! loves challenges and is fully committed to tackling them.
Backend team member Ramy Hakam says, "When programming this option, we have to consider all eventualities. For example, that a carrier does not bring enough pallets to exchange or that pallets are damaged". The Product Team is also involved in the pallet exchange project.
The fact that the implementation is fast and agile is a characteristic of the young company's success. Alessio Brown, Head of Strategy and Data/AI, says: "I worked for a long time at universities and research institutes. Here at Saloodo! I like the dynamic working environment".
Saloodo! on every channel: Onboarding new customers right away
The marketing team helps new customers get the most out of Saloodo! right from the start. This relieves the burden on customer service. Saloodo! is naturally present in social media. The marketing team is also responsible for digital communication for the customs expert Gerlach.
Everyone at Saloodo! has one long-term goal in mind: To open up new markets. Only recently, the digital freight platform has expanded to Africa, the United Arab Emirates and Turkey. And further growth will continue...
Read more:
Saloodo! How to benefit from the digital freight platform
Exciting innovations, proven international expertise: That's why Saloodo inspires!