As outlined in the last issue of Road Freight Market News, the current economic environment is characterized by continuously rising prices. This is due to external shocks such as the Corona lockdowns or the Ukraine war, and the associated consequences for consumer behavior and the economy. This volatility has also materialized in the European road freight market, which has since shown a shortage of capacity in the market as well as significantly increased transport costs.
The purpose of this issue is to provide a concise overview of the current key figures and events that dominated the European economy and road freight transport in July, as well as ongoing trends in European road freight transport.
Rising energy prices and ongoing uncertainties regarding Russian gas supplies pose further challenges to European economy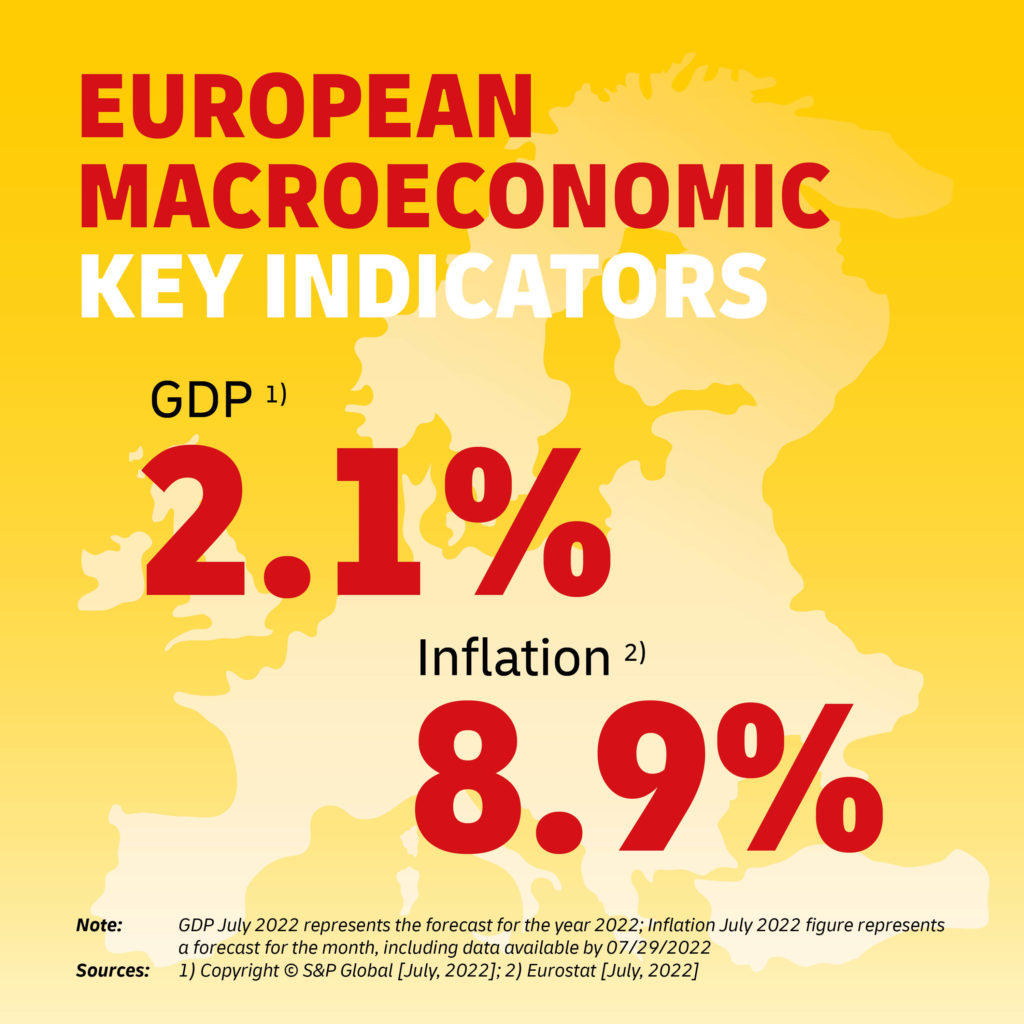 The concerns already expressed in June regarding a potential halt in gas supplies from Russia intensified further in July. Although gas is currently still flowing through the Nord Stream 1 pipeline, worries about future energy supplies remain. Fueled energy prices across Europe continue to boost inflation. For example, Eurostat, the European Union's federal statistical office, reports an all-time high annual inflation rate in the euro area of 8.9% for July 2022. This is why the July 2022 inflation rate is 6.7 percentage points higher than in the previous year and almost 7 percentage points above the European Central Bank's (ECB) medium-term inflation target of 2%.
Concerns about future energy supplies, further rising inflation, and tighter financing conditions, which have now come into effect with the increase in the key interest rate by the ECB, are fundamentally weakening the economy and increasing the risk of recession. This also weakens the demand and therefore continues to harm the EU economy: In July, S&P Global (formerly known as IHS Markit) forecast economic growth of around 2.1% for Europe in 2022. Half a year ago, the forecast for economic growth was just below 4%.
Despite the overall economic Situation, road transport demand remains high, but capacities are scarce
Despite shrinking industrial production and rising costs, the need for road transport remains high. However, the continuing high demand is still offset by reduced transport capacities and less cargo space. The reduced availability is mainly due to the generally prevailing shortage of drivers, but also to higher commodity and energy prices. For example, Eurostat indicates a weighted average diesel price of 1.95 euros per liter for the 27 European member states in July. Around a year ago, this was still 1.37 euros per liter (July 2021) and has thus risen by almost 42%.
This situation is causing many carriers and forwarders to reduce their capacities by not reactivating even partially shut-down transport capacities. This results in a significant, capacity imbalance in the market. TIMOCOM, for example, reports an average ratio of freight to offered cargo space in Europe of 82:18 for July, reflecting a slight relief in the market compared to the previous months (85:15 in June 2022). This can be attributed, among other things, to the seasonality of the road transport market, but additionally to the recent decision by the EU Commission that Ukrainian professional drivers should be given easier access to the European labor market.
Outlook for the 2nd half-year remains nebulous
Due to continuing uncertainties, especially with regard to the war in Ukraine as well as a potential loss of gas supplies, it is difficult to make valid statements on the further development within the road transport market. The rising cost of living and associated fears of inflation are certainly leading to decreasing demand and ultimately to a weakening of the economy, which is being fueled by the increase in the key interest rate imposed by the ECB. Companies, and in particular those operating in energy-intensive sectors, are already adapting to this situation in the short term and will likely continue to curb their production. Time will show to what extent and when this will ultimately be reflected in the road transport market.
It also continues to be unclear how transportation capacities will develop in general regarding energy security, as the demand for energy transport, e.g., to supply of coal-fired power plants, is likely to increase in the short term. This development will also have a corresponding impact on costs. Although experts currently expect freight rates in the air and sea transport sectors to normalize in the medium to long term, no such trend can currently be forecast for road transport. Overall, it is unlikely that market capacities will ease in the short term, meaning that transport costs will likely remain at a high level.
DHL Freight continues to monitor market events closely and continuously assesses the impact on capacity and the cost situation in the road network to derive targeted measures and ensure adequate quality. Especially in such volatile situations, open and transparent communication is the top priority for DHL Freight. Therefore, we will provide another update on the development in the road transport market next month.