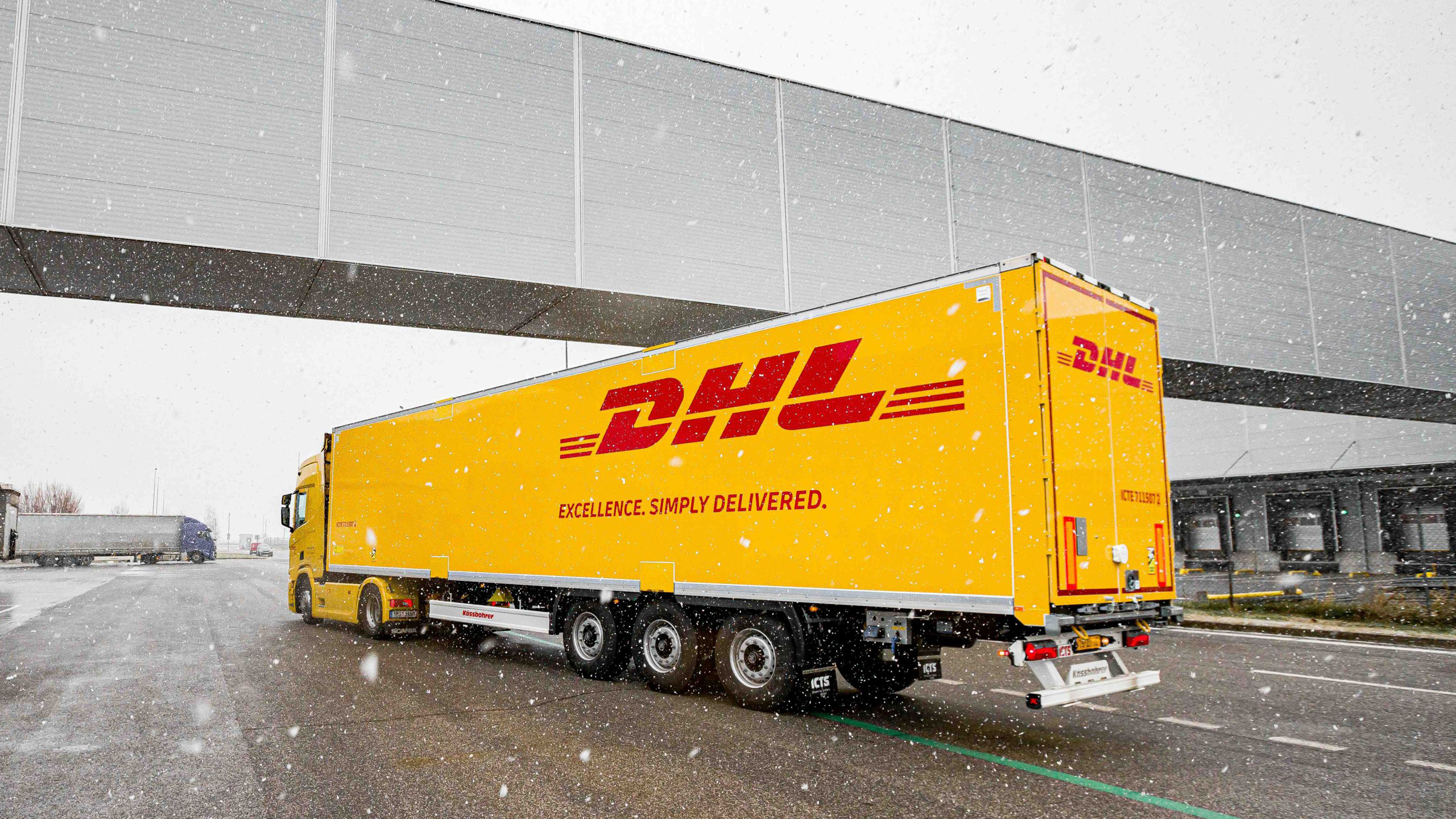 In the European winter, conditions in Norvik in the Arctic Circle are quite different from those in Palermo in the Mediterranean – thus, it is not surprising that there are different regulations for winter tires for trucks in Europe and the obligation to use them. Nevertheless, the existing confusion of different national regulations is astonishing. Our table gives you an overview.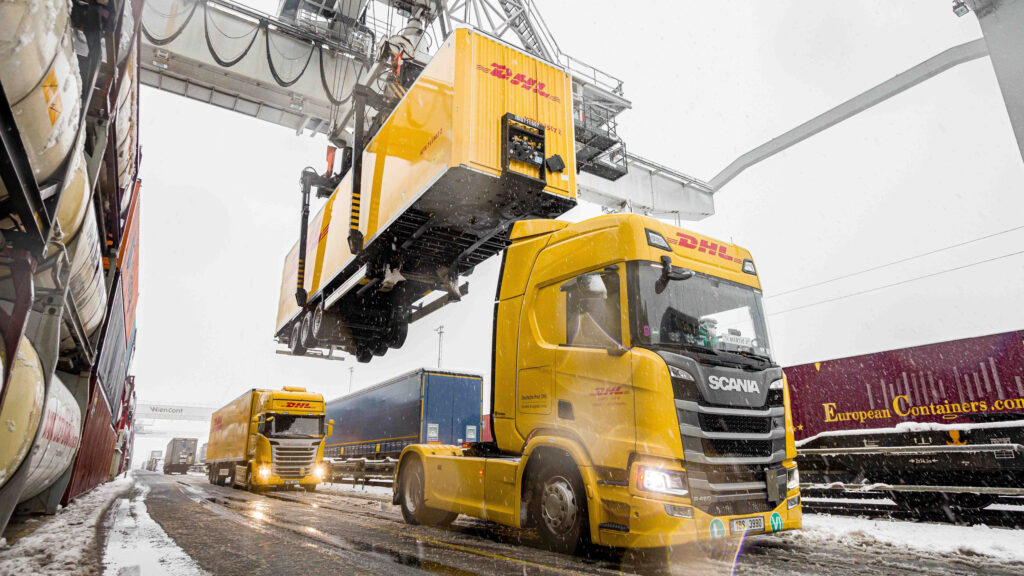 Winter Tires for Trucks: What Is Mandatory and Where?
Truck drivers on the road in winter actually have enough to do when it comes to keeping an overview in early darkness, snow, or sleet. In cross-border traffic in Europe, this is compounded by the sometimes very different national regulations on the use of winter tires or snow chains.
Some countries – such as Switzerland and Liechtenstein – rely on personal responsibility (albeit with corresponding joint liability in the event of accidents). Others meticulously prescribe time periods, tread depths, and tire types: "Three-Peak Mountain Snowflake" (3PMSF) with alpine symbol, "Professional Off-Road" (POR) and so forth. The permit for M+S tires (Mud and Snow) in the winter expires in some places in 2024, but not in others. Some countries require winter tires for vehicles with a maximum permissible laden weight (MPLW) less than 3.5 tons, others for vehicles with an MPLW over 3.5 tons – and yet we have not even talked about snow shovels and the sometimes mandatory obligation to carry along sand!
Being well informed here is important first and foremost for your own safety and that of other road users. Besides, in some countries, such as Austria, there is the threat of considerable fines – so it is better to be well prepared.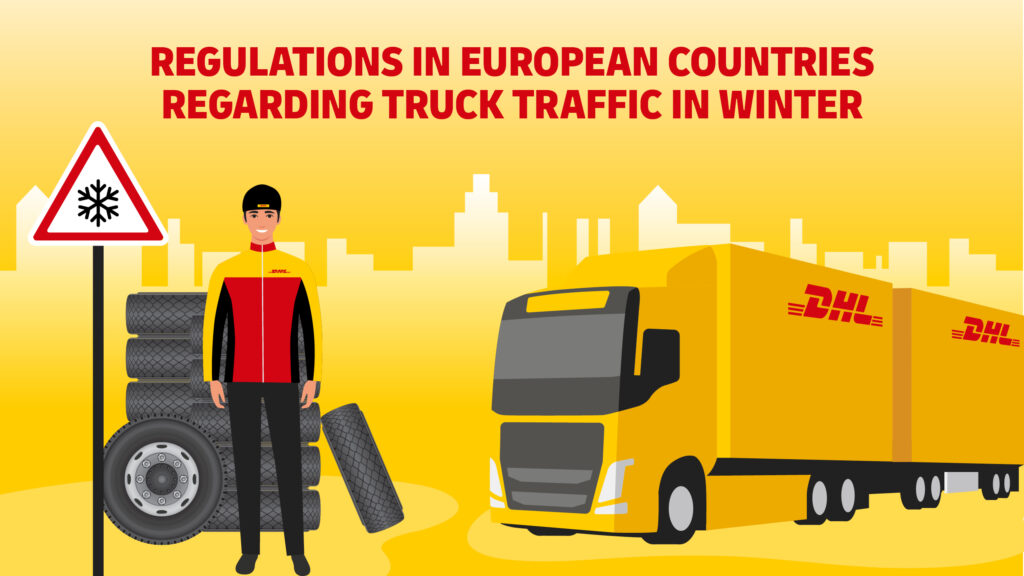 Perfect Orientation also in Winter – with DHL Freight
We at DHL Freight do not leave our drivers and the readers of our blog to twist in the winter wind. The following table provides a compact overview of the regulations in European countries regarding truck traffic in winter: compulsory use of winter tires, studded tires, snow chains, snow shovels and sand. We wish you a safe and accident-free journey in the European winter and a good start to spring!
| | | |
| --- | --- | --- |
| Country | Compulsory use of winter tires | Particularities / further regulations |
| Albania | No | Studded tires prohibited; compulsory use of snow chains with corresponding signage and weather conditions |
| Austria | 11/01-3/15 for vehicles with an MPLW over 3.5t: M+S- and/or 3PMSF tires on at least one drive axle (minimum tread depth 6mm [diagonal], 5mm [radial]) | Studded tires for vehicles with an MPLW over 3.5t prohibited; 11/01-4/15 obligation to carry along snow chains for at least 2 drive wheels, usage only on roads covered in snow and ice |
| Belarus | No | Studded tires permitted; snow chains only on roads covered in snow and ice |
| Belgium | No | Studded tires permitted if used symmetrically; snow chains only on roads covered in snow and ice |
| Bosnia and Herzegovina | 11/15-4/15 for vehicles with an MPLW over 3.5t | Studded tires prohibited; 11/15-4/15 obligation to carry along snow chains, snow shovel and sand; compulsory use of snow chains with corresponding weather conditions |
| Bulgaria | 11/15-3/01 (minimum tread depth 4mm) | Studded tires prohibited; obligation to carry along snow chains 11/01-3/31 |
| Croatia | 11/15-4/15 | Vehicles with an MPLW over 3.5t: M+S tires mandatory on the drive axle; studded tires prohibited; obligation to carry along snow shovel for commercial vehicles; regional regulations on the use of snow chains |
| Czech Republic | 11/01-3/31 situational winter tire obligation with corresponding weather conditions and signage | Vehicles with an MPLW over 3.5t need M+S tires (minimum tread depth 6mm) on the drive axle; studded tires prohibited |
| Cyprus | No | None |
| Denmark | No | 11/01-4/15: studded tires and snow chains permitted |
| Estonia | 12/01-3/01 (10/01-4/30 with corresponding weather conditions) for vehicles with an MPLW less than 3.5t | 10/15-3/31 studded tires in winter road conditions permitted; snow chains permitted with corresponding signage; vehicles with an MPLW over 3.5t: no mandatory use of winter tires but minimum tread depth of 3mm |
| Finland | 11/01-3/31 with corresponding weather conditions | The following are permitted: 3PMSF, POR or studded tires (M+S until 11/30/2024); minimum tread depth: 5mm on the drive axles, otherwise 3mm; 11/01-3/31 studded tires permitted in winter road conditions; snow chains only on roads covered in snow and ice |
| France | No | 11/01-3/31 regional mandatory use of winter tires or snow chains (in mountain areas) on designated roads (B26 and/or B58); for trucks in classes N1, N2 and N3, at least 2 wheels per axle must be fitted with 3PMSF tires (M+S tires already in use permitted until November 2024); 11/01-3/31 studded tires permitted for vehicles with an MPLW over 3.5t (max. 90 km/h, mandatory labeling) |
| Germany | Situational winter tire obligation in the event of ice, snow, or slippery frost | Vehicles with an MPLW over 3.5t need 3PMSF-tires on the drive axles and front steering axles (M+S tires produced until 12/31/2017 may still be used as winter tires until 9/30/2024); studded tires prohibited; snow chains permitted with corresponding signage |
| Greece | No | None |
| Hungary | No | Studded tires prohibited; snow chains only on roads covered in snow and ice; mandatory use of snow chains with corresponding weather conditions (max. 50km/h) |
| Iceland | No | 11/01-4/14 minimum tread depth 3mm; 11/01-4/14 studded tires permitted; snow chains only permitted if the road surface is not damaged |
| Ireland | No | Studded tires and snow chains permitted on roads covered in snow and ice, if the road surface is not damaged (liability to recourse) |
| Italy | No | Exceptions with mandatory use of winter tires indicated by signage; obligation to carry along snow chains |
| Kosovo | 11/15-3/15 for vehicles with an MPLW over 3.5t (M+S) | No mandatory use of winter tires for vehicles with an MPLW less than 3.5t (minimum tread depth 4mm, M+S); studded tires prohibited; snow chains permitted on the drive axle |
| Latvia | 12/01-3/01 for vehicles with an MPLW less than 3.5t (M+S, minimum tread depth 4 mm) | No compulsory use of winter tires for vehicles with an MPLW over 3.5t (minimum tread depth 3mm); 10/01-4/30 studded tires permitted for vehicles with an MPLW over 3.5t; snow chains permitted on roads covered in snow and ice |
| Liechtenstein | No | Tires must comply with the weather conditions (imminent joint liability); 11/01-4/30 studded tires permitted for vehicles with an MPLW over 7.5t (max. 80km/h, mandatory on all tires, mandatory labeling); snow chains permitted, mandatory with corresponding signage |
| Lithuania | 11/01-4/01 for vehicles with an MPLW less than 3.5t | No compulsory use of winter tires for vehicles with an MPLW over 3.5t (minimum tread depth 1,6mm); 11/01-4/01 studded tires permitted; snow chains only on roads covered in snow and ice |
| Luxembourg | Situational winter tire obligation with corresponding weather conditions (M+S) | Studded tires prohibited; snow chains only on roads covered in snow and ice |
| Malta | No | None |
| Montenegro | 11/01-4/01 on specified roads (local announcement); winter tires or M+S (minimum tread depth 4mm) | Studded tires prohibited; 10/15-3/15 obligation to carry along snow chains for the drive axle; mandatory use depending on signage and weather conditions; obligation to carry along snow shovel |
| Netherlands | No | Studded tires and snow chains prohibited on public roads |
| North Macedonia | No | Studded tires prohibited; 10/15-3/15 obligation to carry along snow chains with standard tires and a snow shovel |
| Norway | 11/15-3/31 for vehicles with an MPLW over 3.5t (3PMSF on drive axle and front steering axle, M+S or 3PMSF on the remaining) | Minimum tread depth 5mm: 11/01-4/08 (South Norway), 10/16 -4/30 (North Norway); 11/01-4/07 studs only permitted on winter tires, regionally deviating regulations and fees for the use of studded tires; 11/01-4/07 obligation to carry along snow chains for vehicles with an MPLW over 3.5t |
| Poland | No | Studded tires prohibited; snow chains only on roads covered in snow and ice; compulsory use of snow chains with corresponding signage |
| Portugal | No | Studded tires prohibited; compulsory use of snow chains only in mountain areas with corresponding signage |
| Romania | Situational winter tire obligation on the drive axle for vehicles with an MPLW over 3.5t with corresponding weather conditions (M+S or better) | Studded tires prohibited; obligation to carry along snow chains, snow shovel, and sand for vehicles with an MPLW over 3.5t; mandatory use of snow chains with corresponding signage |
| Russia | 12/01-2/29 on all drive axles (M+S or 3PMSF, minimum tread depth 4mm) | Studded tires prohibited only in summer (6/01-8/31); no obligation to carry along snow chains |
| Serbia | 11/01-4/30 situational winter tire obligation in accordance with weather conditions and signage (M+S, minimum tread depth 4mm) | Studded tires prohibited; obligation to carry along snow chains for the drive axle, mandatory use with corresponding weather conditions and signage; obligation to carry along snow shovel |
| Slovakia | 11/15-3/31 for vehicles with an MPLW over 3.5t on the drive axle (M+S, minimum tread depth 3mm) | Studded tires prohibited; obligation to carry along and to use snow chains with corresponding weather conditions and signage |
| Slovenia | 11/15-3/15 for vehicles with an MPLW over 3.5t | Either winter tires at least on the drive axle (minimum tread depth 3mm) or standard tires if snow chains are carried along – snow chains are in the latter case mandatory on the tires of the drive axle in winter weather; studded tires prohibited |
| Spain | On high-altitude mountain roads (red level, 15/TV-87) for vehicles with an MPLW of 3.5-7.5t | Either winter tires on all axles (minimum tread depth 4mm) or snow chains; only traffic for waste disposal, food and melting agent transport, and accident assistance is permitted on these roads; studded tires permitted on roads covered in snow and ice for vehicles with an MPLW of 3.5-7.5t if no winter tires are fitted |
| Sweden | Situational winter tire obligation with corresponding weather conditions; minimum tread depth 5mm (trailer 1.6mm) | Vehicles with an MPLW over 3.5t need 3PMSF, POR or studded tires on front and drive axles, the remaining M+S or better (the use of M+S winter tires is permitted on all axles until 11/30/2024); 10/1-15/04 studded tires permitted (extension possible due to weather conditions), local bans; for heavy goods vehicles with two axles, one of which is a driving vehicle, to which one or more trailers are attached (between 1 December and 31 March): 1. at least 25 per cent of the total gross weight of the vehicle combination shall be borne by the driven axle, or 2. The total gross mass of the coupled trailers shall not exceed the gross mass of the truck by more than 1,5 times |
| Switzerland | Regional regulations (e.g., on mountain paths) | Tires must comply with the weather conditions (imminent joint liability); 11/01-4/30 studded tires permitted for vehicles with an MPLW less than 7.5t on snow-covered roads (max. 80km/h, mandatory labeling); compulsory use of snow chains with corresponding weather conditions and signage |
| Turkey | 12/01-4/01 on regional roads (M+S, 3PMSF); local weather-dependent regulations | Winter tires mandatory on drive axles of vehicles with an MPLW over 3.5t and on all axles of vehicles with an MPLW less than 3.5t; minimum tread depth 4mm for vehicles with an MPLW over 3.5t and 1,6mm for vehicles with an MPLW less than 3.5t; snow chains and studded tires permitted |
| UK | No | Studded tires and snow chains permitted on roads covered in snow and ice, if the road surface is not damaged (liability to recourse) |
| Ukraine | No | Studded tires permitted; snow chains only on roads covered in snow and ice |