Good news for current and future DHL Freight customers: myDHLFreight takes the processing of road freight to the next digital level – at no additional cost, self-explanatory, and user-friendly. myDHLFreight is a state-of-the-art platform that simplifies road freight for consignors. With self-service features, our customers enjoy full control, technical comfort, and are fully flexible.
Welcome to myDHLFreight!
With myDHLFreight, you manage your transport requests and shipping requirements 24/7 from anywhere with a computer or mobile device. The web-based customer portal for standard road freight services makes logistics processes more efficient and, for our customers, more transparent and stress-free.
myDHLFreight has been thoroughly developed to give you, our customers, more freedom in your daily work. You have easy access to a range of self-service features – anytime, anywhere. The intuitive booking process in myDHLFreight allows our customers to create freight orders for various standard products and value-added services with just a few clicks.
myDHLFreight: Complete Success in Sweden – and Soon Everywhere!
myDHLFreight has been in operation in Sweden since 2020 and by now serves more than 30,000 customers with reliable and fast service. Now we are extending this success story to the rest of DHL Freight by gradually rolling it out in each and every country where DHL Freight offers its services. The start is in Finland and Denmark in October/November 2023. By the end of 2023, six more countries will follow, and in 2024 there will be access to myDHLFreight in 21 further countries. Small to medium-sized customers in standard shipping will benefit from myDHLFreight in particular.
Unlocking the Full Potential of Digitization Together – With myDHLFreight
The user-friendly design of the portal as well as the intuitive input forms and templates make myDHLFreight highly effective and convenient for you and your colleagues. Because the myDHLFreight digital portal not only combines all the processes relevant to booking, such as request for proposal, posting and shipment tracking, in one place, but also provides the option of managing multiple accounts in one profile.
In summary: The fast and reliable solution translates into less effort and time savings for you when processing shipping orders.
Benefits of myDHLFreight
With myDHLFreight, you are right in the cockpit and have full control over your shipping orders at all times. You monitor how everything is going – and can devote yourself to your core tasks with confidence. This is because myDHLFreight offers:
Clear overview: management solution for road freight from one single source – no annoying switching between different portals
Efficiency with seamless process handling and self-service functions
Time saving: template creation, address books, and recorded history of previous deliveries speed up new shipments
Transparency due to updates in real time, comprehensive shipment tracking, and verifiable pricing
24/7: anytime and anywhere on a device of your choice
easy operation thanks to intuitive and user-friendly design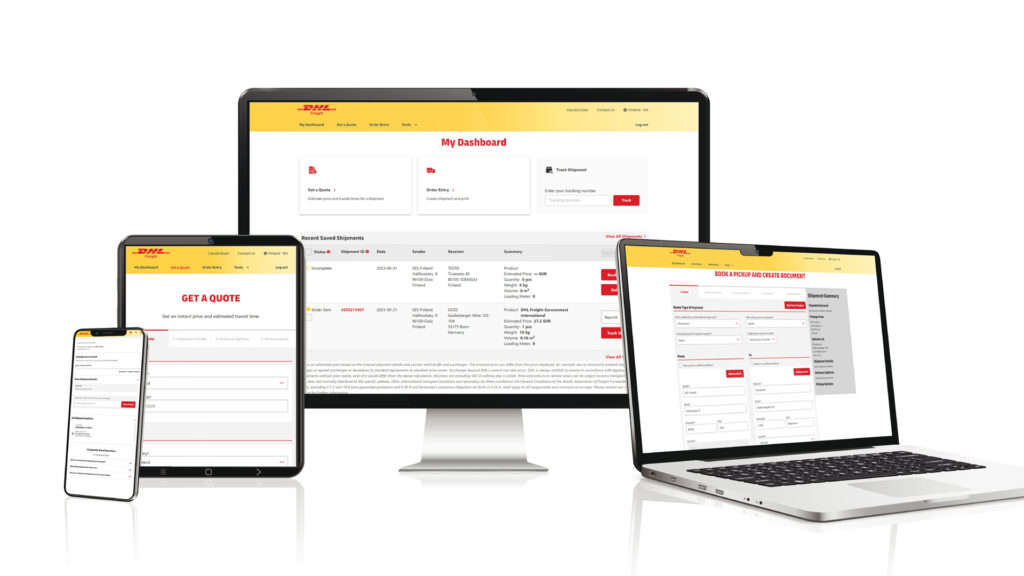 Main Functions of myDHLFreight
The innovative online platform myDHLFreight for the convenient and efficient handling of road freight services also impresses with a wide range of functions.
These are the main functions of myDHLFreight:
Self-service registration
Dashboard with an overview of the current and last bookings
Immediate cost estimates including estimated lead times based on existing contracts and agreed rates
Order entry and generation of freight documents with printing of labels
Direct access to shipment tracking
Self management of user profile
Address book function for creating, importing, and exporting delivery addresses
Shipment templates for recurring shipments and frequent standard shipments
User-defined filters for accessing the shipment history
Our Services for You – Now Even Better with myDHLFreight
To benefit from the upgraded services and to start your personal myDHLFreight experience, contact your local DHL Freight sales representative or the customer support team. Here, you can also find out if and when myDHLFreight will be available in your region.
For creating your own myDHLFreight profile, all you need as a DHL Freight customer is an e-mail address and your DHL Freight customer number. Our customer service will support you during the transition to myDHLFreight to make your first steps in our new portal as pleasant as possible.