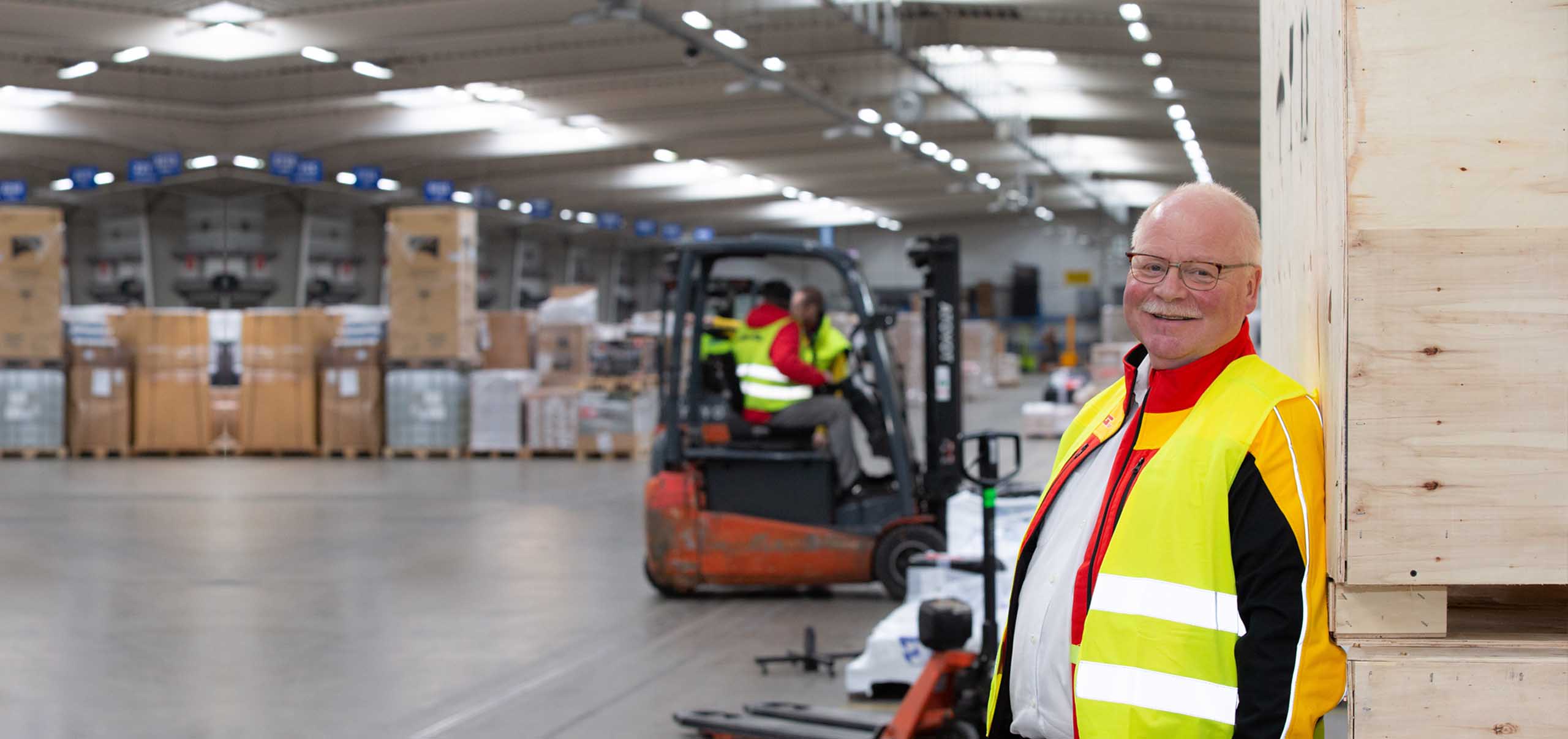 DHL Freight´s customers and our teams have both shown their flexibility, creativity and commitment in how they responded to the global COVID-19 health crisis. My sincere thanks to you all for your willingness to go so far above and beyond expectations!
Our goal of "Connecting people − Improving lives" is more important than ever
During the corona pandemic, many of you are relying on us more than before. And our employees are doing everything in their power to meet your needs. With a special demonstration of solidarity, we fulfilled our goal of "Connecting people − Improving lives" every day under often extraordinarily difficult working conditions. We assumed the responsibility for the well-being of the people who work for us and for those that we work for. This means:
We do our utmost to provide undisrupted service.
For both our employees and customers it's Safety First! That is why we constantly monitor the current situation and follow the hygiene measures recommended by internationally recognized health organizations such as WHO, CDC, ECDC and Robert Koch Institute.
You rely on us − this provides our performance incentive!
We combine professionalism with passion because DHL Freight is part of a globally operating Group that is prepared to handle pandemics. These are an element of our continuous risk assessment and planning. What is more, our network and infrastructure allow us to continue operating our terminals under the most extreme circumstances. Whether in the freight centers or on the road, all DHL employees are committed to fulfilling our performance promise to you every day. It goes without saying that we are continuously developing solutions to deal with the constantly changing situation. We know:
Our international logistics services play a decisive role during this global crisis. For example, in the shipment of medical, chemical and pharmaceutical products. And this also applies to companies that are now reorganizing to enable them to continue to operate. We support them with ideas, know-how and our service capacities.
At the same time, many small and medium-sized companies are being unprecedentedly challenged to diversify their suppliers and activate their markets. This too requires new ways of thinking. The digital freight platform Saloodo! − a DHL subsidiary − is designed to offer flexible solutions. It is currently gaining momentum precisely because of its simple and efficient handling.
The supply chain after corona: We are facing a huge challenge
The corona crisis has led to massive restrictions in national and international trade, and especially on road transport throughout Europe. Everyone who is now getting their supply chains up and running again faces a daunting task. Here too, you can rely on our expertise and support.
To replenish stocks requires good planning, smart logistics and a fine balance between supply and demand.
Since the countries of Europe are normalizing at different speeds, precise market observation is required. The negative impact at borders and on national groupage traffic has been considerable. All our DHL customs teams are working as usual. We are closely watching the situation and will keep you up-to-date.
International goods traffic also requires foresight and planning. As a result, the DHL Freight network continues to function reliably and is prepared for the restart of supply chains. Our premium product for general cargo, DHL Freight Eurapid, continues to impress customers with reliable transit times and top prioritization of your shipments. But the key is to book shipments as early as possible due to the high demand!
We will be at your side to help you rebuild your logistics and supply chains!

Thank you for your trust and commitment.

Let us remain optimistic and strong, working together in solidarity and in good spirits!
Sincerely yours,
Uwe Brinks