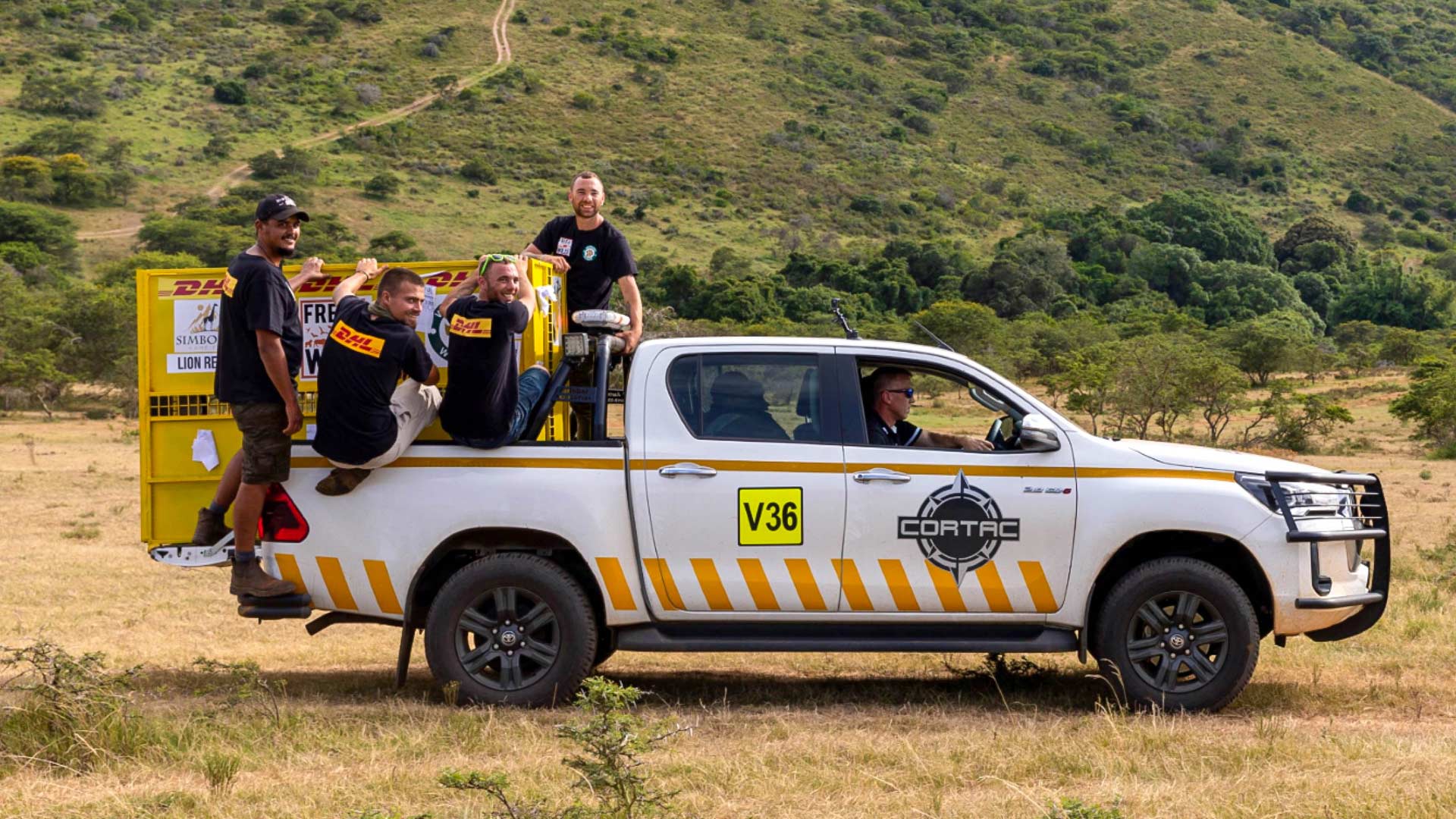 Many big cats are at risk of extinction due to hunting and the worldwide loss of their habitats. Not only that, countless of them are kept in captivity in private zoos for entertainment or as a status symbol – in Eastern Europe, their situation is often particularly tragic. DHL has taken an active role in helping to bring five lions and one tiger from Ukraine to safety in a South African reserve.
From Cages in Ukraine to an African Wildlife Reserve
Around the world, big cats like lions and tigers are traded and kept captive in appalling conditions. Many of these animals have never learned to survive in the wild. But they can be rescued and relocated to well-managed sanctuaries: places like the Simbonga Game Farm & Sanctuary near the South African harbor city of Port Elizabeth. The reserve is run by the Warriors of Wildlife (WoW), an organization dedicated to rescuing, resettling, and nurturing abused wildlife. WoW founder Lionel de Lange has lived in Ukraine and is familiar with the conditions of big cats kept in private zoos there.
No Sanctuary in Eastern Europe
De Lange is devastated time and again: "The cruelty and everything that is involved in it is just mind boggling. Not just seeing the animals in the cage, that's the least of it. It's everything else that they go through." In Eastern Europe itself, there are no rescue centers for big cats. So, they have to be taken abroad, in this case to Simbonga.
DHL Handles the Transfer to Africa
When de Lange once again heard about mistreated big cats in Ukraine, he reacted immediately: "We knew we needed to get these cats out. I got on the phone, and I called the Johannesburg office for DHL, and within days they had made a decision that they could do this."
One tiger and five lions were to be relocated. They were transported by plane and on trucks over 15,000 kilometers. In total, they spent 87 hours in their transport boxes on the way to their new home in Simbonga, which involved numerous procedures, as de Lange explains: "It's not like a human booking a flight. These cats have to go through X-ray scanning machines and then their vet clearances and their customs clearances."
Our 'Lions and Falcons of DHL', as I like to call our staff, brought the animals safely back to their wild home base. […] Not an easy job, but one we accepted wholeheartedly.

Amadou Diallo, CEO of DHL Global Forwarding Middle East and Africa
New Home in South Africa
The effort has paid off for DHL and WoW: After a short recovery and acclimatization phase, the animals now frolic in generous open spaces and are simply allowed to be felines – without having to serve as prestige objects.
Together with National Geographic Creative Works, we captured the entire 87-hour rescue mission – made possible by our logistics capabilities – to share this moving story with a wide audience.
The short film is also about cheetahs at the Ashia Cheetah Center in South Africa's Western Cape province. Only 7,000 of the world's fastest mammals still live in the wild. Apart from hunting and trade, the small populations are threatened by inbreeding. At the Ashia Game Reserve, cheetahs are being prepared for release into the wild to improve the genetic stock of these wild cats and save them from extinction.
You can watch the film here.
Sustainable Commitment at DHL Freight
At DHL Freight, customers can make their own contribution to the environment with the GoGreen Plus service. This is our binding promise to reduce emissions directly within our own network via carbon insetting by piloting and deploying green technologies and fuels. The sustainable future of logistics has already begun at DHL Freight. You can be a part of it.