Increasing turnover in online trade and individual customer preferences on the one hand, on the other hand, environmental zones and traffic restrictions in inner cities as well as the shortage of drivers – for customer-oriented transport logistics, this means: On the last mile, the type of delivery must adapt so that needs and constraints can be brought into a viable balance in the future. Read here which trends are promising for this purpose.
Robots and Drones on the Last Mile: a Realistic Option for the Future?
Flying drones and autonomously driving delivery robots – this is how many imagine the parcel delivery of the future. In the long term, this may be a coherent vision of the future; all the more so in view of the growing demand for transport and the strained personnel situation in logistics. The progressive automation of vehicles seems indispensable to ensure the future viability of transport logistics.
However, due to road traffic licensing issues, a limited radius of action, the risk of accidents on sidewalks, or problems overcoming stairs and steps, a broad market launch of delivery robots is very unlikely in the near future. Other solutions are therefore required in the short to medium term. Nevertheless, robots already play an important role in warehouse and intralogistics. This also applies to drones. Outside of logistics centers, though, widespread use of delivery drones is hardly expected in the near future. Probably, their use will remain limited, especially in metropolitan areas. An expansion of the use of drones in rural areas is somewhat more conceivable.
Such is the result of a study on the last mile published in 2022 by the WHU – Otto Beisheim School of Management: "How will last-mile delivery be shaped in 2040?" At least in the case of parcel delivery in densely populated areas, delivery by humans will continue to be the standard for the foreseeable future – also because it is (still) more economical.
Concepts for the Last Mile: by 2030, there Will Rather Be More Pack Stations than Robots
This does not mean that everything will remain the same until the start of the new decade. Given that the number of conventional delivery vehicles, which still dominate the last mile, just cannot continue to increase, the last-mile delivery is expected to become segmented. Depending on the nature of the goods, customer requirements, and delivery areas, different delivery types will coexist: for example, delivery by an electric van, an electric cargo bike or via an easily accessible pack station. The overriding keywords here are flexibility and sustainability.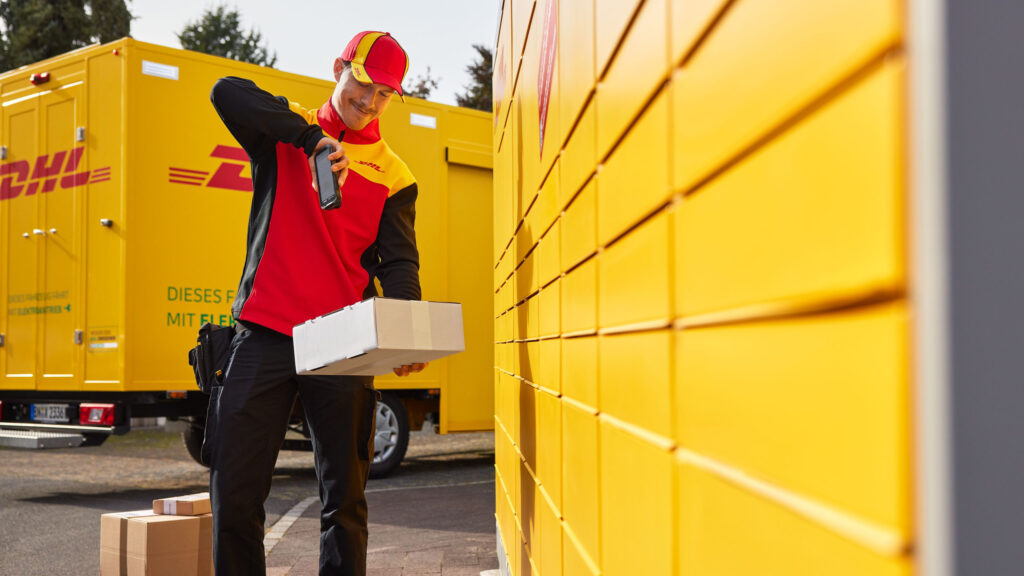 Logistics service providers must act innovatively, especially since low margins and price pressure further restrict their scope of action. The goal for transport logistics providers is to nevertheless maintain cost efficiency while at the same time ensuring sustainability and customer satisfaction. This is achieved primarily by delivering as many shipments as possible to as few stopping points as possible. This is easier in the B2B sector than in the case of private end customers, but pack stations contribute to the solution.
Meeting Individual Customer Needs
Customer demands on delivery agents are becoming ever more stringent. Above all, the focus is on flexibility. Customers want individual delivery options that fit in with their everyday lives. To address this trend despite limited resources, the use of customer-centric technologies is becoming increasingly important for logistics service providers. Artificial intelligence (AI), for example for route planning or customer contact (chatbots), and user-friendly apps and websites for live tracking help to increase first attempt delivery rates.
With ever greater individualization, the volume of customer data is also growing: Individual delivery does not work without more personal data that customers inevitably disclose to have their wishes fulfilled. This amount of data needs to be carefully evaluated, ideally in conjunction with comprehensive analysis of location data, traffic data, weather data, etc. Meeting customer needs efficiently requires in-depth analysis of big data for understanding customer preferences and drawing the right conclusions.
Sustainability on the Last Mile
Established modes of delivery depending on human deliverers will most likely continue to exist until 2030 (and beyond). At the same time, environmental performance will become more and more important – both due to the socio-ecological responsibility of companies and the increasing customer demand for sustainability.
AI and big data help logistics specialists to optimize route and load planning to create environmental added value through efficiency on the last mile. Another lever is propulsion technology, because motor transport vehicles will continue to be the most efficient delivery vehicles for a long time to come.
Cargo bicycles can be used in inner cities, but they have limited load volume and also rely on an expensive regional network of micro-hubs. It is therefore important for logistics companies to successively increase the use of sustainable fuels and the share of delivery vehicles that are powered by green electricity. The WHU study assumes that by 2040 only electric vehicles running on sustainably generated electricity will be on the road for the last mile.
Despite all the sustainability efforts of logistics service providers, environmentally friendly deliveries can fail due to the individual consumption needs of customers – even if the same customers demand sustainability. Last mile sustainability may be initiated by providers of transport logistics services, but customers must also contribute to the sustainable delivery of goods. Direct home delivery, for instance, has a larger environmental footprint than delivery to parcel stores or pack stations – not to mention multiple delivery attempts.
Dense Network of Pack Stations
A well-developed network of parcel stores and pack stations is thus crucial for a sustainable last mile – also to increase customer acceptance. Such a network allows customers to pick up their parcels and return them as required. It is a key to success in future shipping: more flexibility and faster processes.
To increase flexibility, two approaches can be combined that at first glance have little in common: autonomous driving and delivery to pack stations. Mobile pack stations, which can move autonomously along predefined routes, can supplement the stationary network of pack stations. This solution is particularly suitable for the outskirts of cities or small settlements, which have a poorer infrastructure than city centers. Autonomously driving pack stations enable logistics companies to meet customers' delivery needs even in sparsely populated regions and spare them long journeys.
Outlook 2040 to 2050
So a revolution is not to be expected by 2030 – but a gradual improvement in last-mile services in terms of more flexibility, more efficiency, and more sustainability. What are the prospects for the following decades?
One prediction has already been stated: Most likely, the combustion engine will no longer be part of the last mile. The extent to which alternative drive concepts – the buzzword being hydrogen – will compete with electromobility cannot be estimated with certainty. The same applies to the potentially rapid developments in the field of AI and robotics. It cannot be ruled out that the traffic safety and flexibility of delivery robots or drones will soon be so high that they can be operated in public spaces without any worries.
Perhaps by 2050, there will be no motor vehicles at all on the last mile, and some delivery will instead be made via utility or air shafts. Some experts anticipate a definitive end to doorstep delivery in favor of decentralized delivery points. Modular systems could be used for delivery, with standardized containers that harmonize with every single delivery option: from delivery bots to cargo bikes to shafts.
And perhaps there will be less need for deliveries in the first place. By means of 3D printing technologies, entire groups of goods could be produced decentralized and on demand. With an appropriate infrastructure of local micro hubs, the printed products could be immediately distributed regionally – but here only the "first mile" is eliminated and the last mile is again handled by a drone, a robot, or a human.
Conclusion
In the near future, new technologies will not completely take over the last mile. Rather, established delivery options must be further improved to make last-mile logistics more sustainable and, at the same time, more flexible. To this end, greater use should be made of ecologically advantageous vehicle technology. Route and load planning should become efficient as possible by means of innovative IT solutions.
Consistent expansion of the infrastructures for pack stations and the implementation of mobile station concepts are crucial to meeting future needs in a customer-oriented way. Close and good cooperation between consignors and logistics service providers is essential to ensure an optimal customer experience – just as it is lived practice at DHL Freight and the DHL Group. As a pioneer of green logistics, we not only move your goods quickly and safely to their destination, but also in an increasingly sustainable manner.