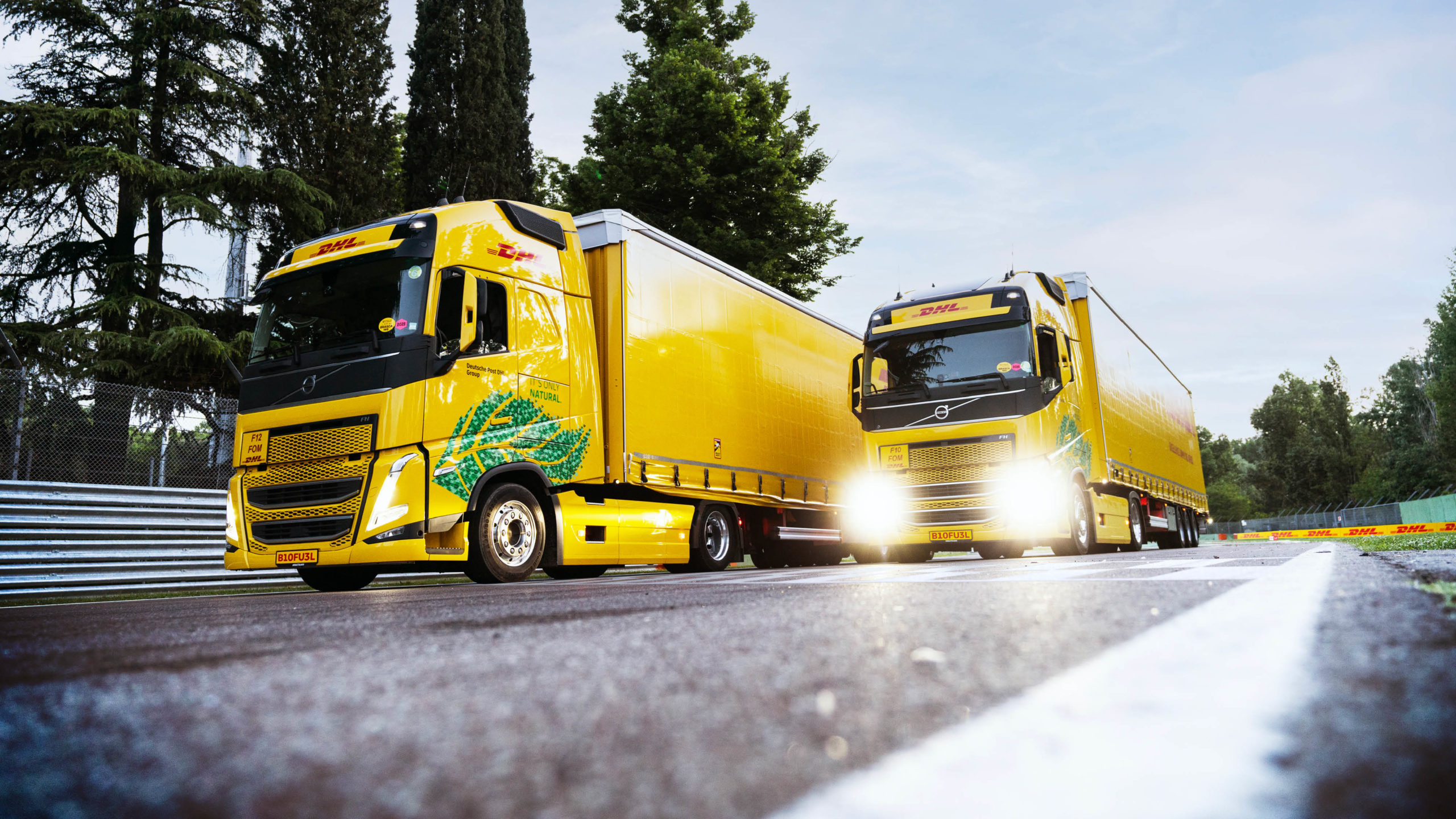 With around 40 years of collaboration, DHL is considered Formula 1's most loyal global partner. Today marks the next phase of the partnership: DHL is taking Formula 1's green logistics to the next level with the first biofuel-powered truck fleet. Read here what this means for DHL and Formula 1 emissions.
Reduction of CO2 Emissions by at Least 60 Percent
From 2023, 18 new trucks will be in use at all European Formula 1 races. These will run on hydrogenated vegetable oil (HVO100 fuel) and reduce CO2 emissions by at least 60 percent compared to a truck running on conventional fuel – but there is even more potential for savings that can further reduce emissions in the future.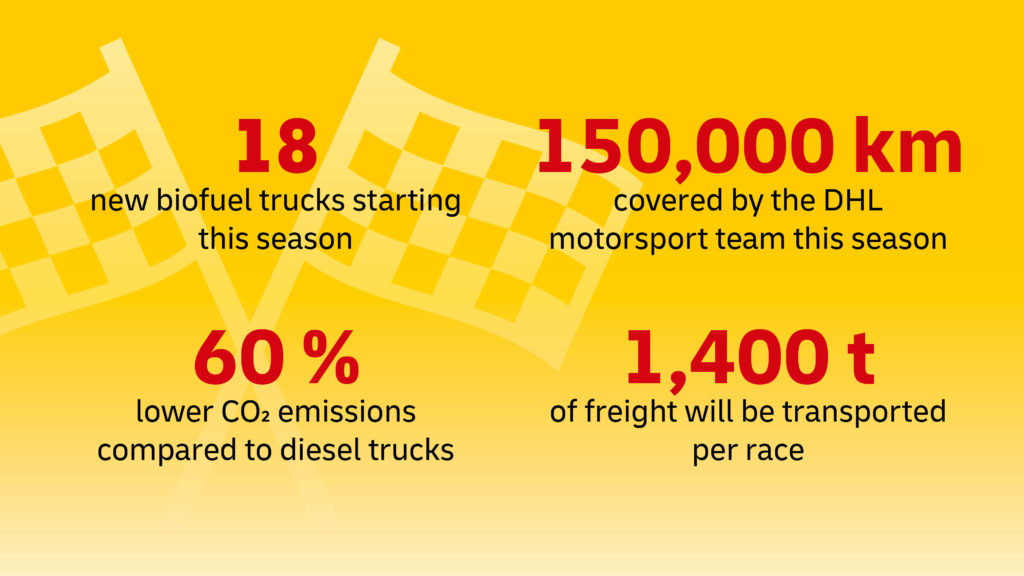 And that pays off: Because this season, the DHL motorsport team covers around 150,000 kilometers and carries some 1,400 tons of freight per race. In addition to race cars, tires, spare parts and fuel, broadcasting and hospitality equipment is also transported to the circuit. Along the way, DHL also takes care of customs clearance, pick-up services, and customs duties.
Our partnership with Formula 1 also showcases our shared dedication to sustainability and reducing our carbon footprint. We consistently strive to make logistics more sustainable, and we are excited to introduce the inaugural fleet of trucks, running on a sustainable fuel this year.

Arjan Sissing, Head of Global Brand Marketing at Deutsche Post DHL Group
Compared with conventional diesel trucks, the load capacity and driving distance are the same – only the pollutant emissions are reduced. The trucks in the new biofuel fleet carry up to 40 tons and can cover up to 3,500 km with a 1,000-liter tank filling. By using the HVO100 drop-in fuel, Deutsche Post DHL Group complies with the EU Renewable Energy Directive. Another advantage: handling biofuel is significantly safer than bunkering diesel and thus one step ahead in terms of sustainability and safety.
Together we are continually looking for more sustainable solutions, and through innovations such as the biofueled trucks we're able to take significant steps forward in reducing our carbon emissions and achieving our sustainability goal of being Net Zero by 2030.

Ellen Jones, Head of ESG at Formula 1
A Partnership for More Sustainability
Collaborating on a sustainable future for motorsport has always been central to both partners – and together, DHL and Formula 1 have taken steps actively to move closer to this goal.
These include testing advanced technologies, implementing multimodal transport solutions (including land and sea freight), and increasing the use of Boeing 777 aircraft. This is because these aircraft produce around 18% fewer CO2 emissions compared to the standard 747. In addition, DHL monitors the fuel consumption of trucks with GPS and reduces it with optimized route planning.
It is wonderful to see partners like DHL share the same drive and commitment to creating a more sustainable Formula 1.

Ellen Jones, Head of ESG at Formula 1
Biofuels are not only contributing to a more sustainable future for Formula 1: They also play a key role in the DHL Freight Green Technology Roadmap as a low-emission technology in the medium term. The aim is to deploy at least 1,000 biofuel, LNG, CNG, and electric vehicles in Europe by 2025 and to increase the share of sustainable fuels in long-distance transport to over 30% by 2030.