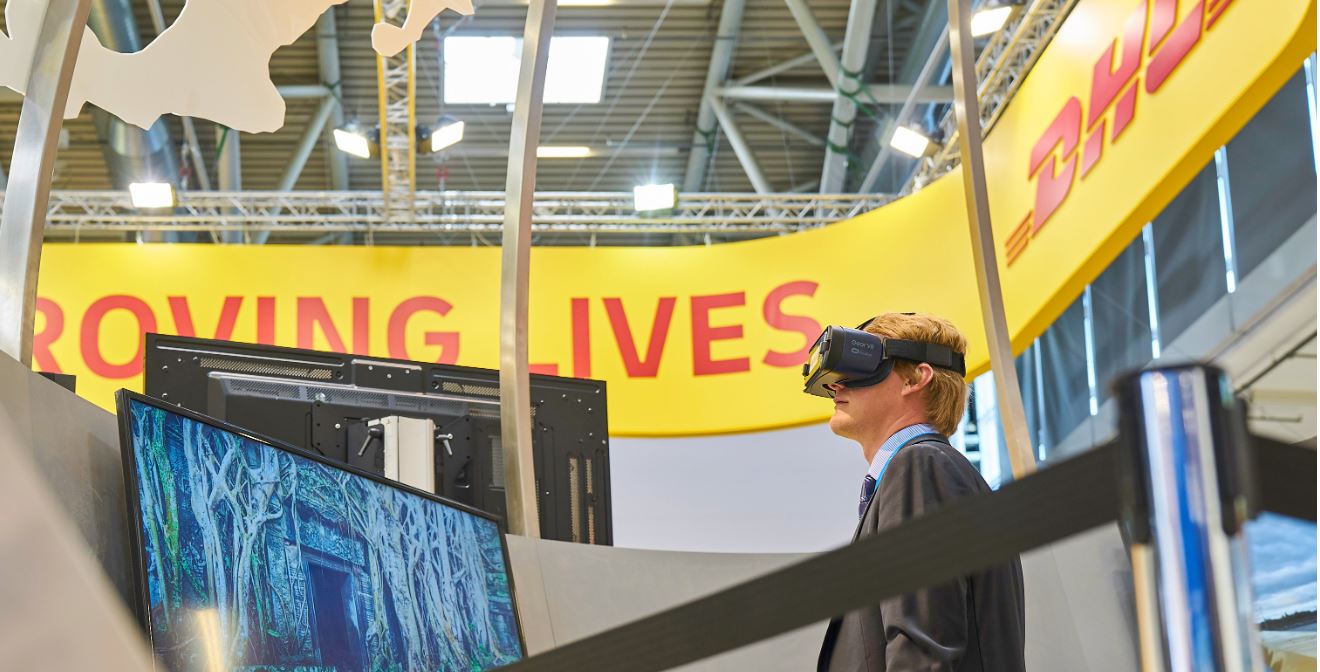 After an eight-year absence, DHL returned to the world's leading trade fair "transport logistic" in Munich in 2019. The 400 square meter stand created a sensation among customers, colleagues and trade fair visitors.
DHL presented itself in a confident and spectacular fashion at transport logistic in Munich. This year, the world's largest logistics trade fair attracted around 64,000 visitors and some 2,400 exhibitors - clearly surpassing past figures and consolidating its position as an international hotspot.
Attractive stand, excellent response
Following an eight-year break, DHL Freight showed a very strong presence at the industry event. "We had a lot of discussions with current and potential customers, demonstrated a top presentation of our potential and, above all, a great cooperation with DHL's other divisions," summed up Freight CEO Uwe Brinks. "The sensational exhibition stand proved to be a real crowd-pleaser." In addition to many discussions, customers were able to listen to presentations on the subject of GoGreen, Trailar and the Saloodo! freight platform at the stand.
Digitalization as an opportunity for an industry under cost pressure
Tim Scharwath, CEO of DHL Global Forwarding, Freight, demonstrated the benefits of digitization for all logistics players during the show:
Simplification as a strategy: This applies internally and in cooperation with customers and service partners.
Highest transparency, maximum convenience when checking and booking offers: for example via the road freight calculator or the equivalent for sea and air freight.
New platforms: The digital freight marketplace Saloodo! helps shippers to find offers with an optimal price-performance ratio.
Up-to-date software for better processes: State-of-the-art solutions enable DHL to handle more volume per employee.
Engine of the world economy
In the well-received opening discussion on the topic "World economy in upheaval - Is logistics the designer or being driven?", DPDHL Group CEO Frank Appel emphasized the central role new trade routes play in the flourishing exchange of goods. "We see ourselves as the engine of the world economy," he said "A lot of things work, but nothing works without logistics." However, Frank Appel remained cautiously optimistic. "Even if the current relations between the governments in the USA and China are not conducive here at present, goods find their way to customers despite customs disputes."
DHL Freight at the world's leading transport logistic trade fair - with new attendance records
The walk-in globe was one of the many attractions at the DHL stand.
DPDHL Group CEO Frank Appel (2nd from left) discussed the current debates on logistics in person as well as on the podium.
No empty promise: The DHL trade fair team impressed business partners with excellence and top performance.
Digitalization, yes please: Uwe Brinks, CEO of DHL Freight highlighted future solutions and applications.
Great walking conditions in the exhibition hall: the DHL team had just the right footwear for long days on their feet.
Virtual Reality at the exhibition stand: future solutions could already be demonstrated and experienced firsthand.
Freight Connections magazine was an integral element of DHL's presentation at the trade fair.
You weren't there? Watch our trade fair video!
Any questions about transport logistic and the DHL trade fair topics? Write to us!