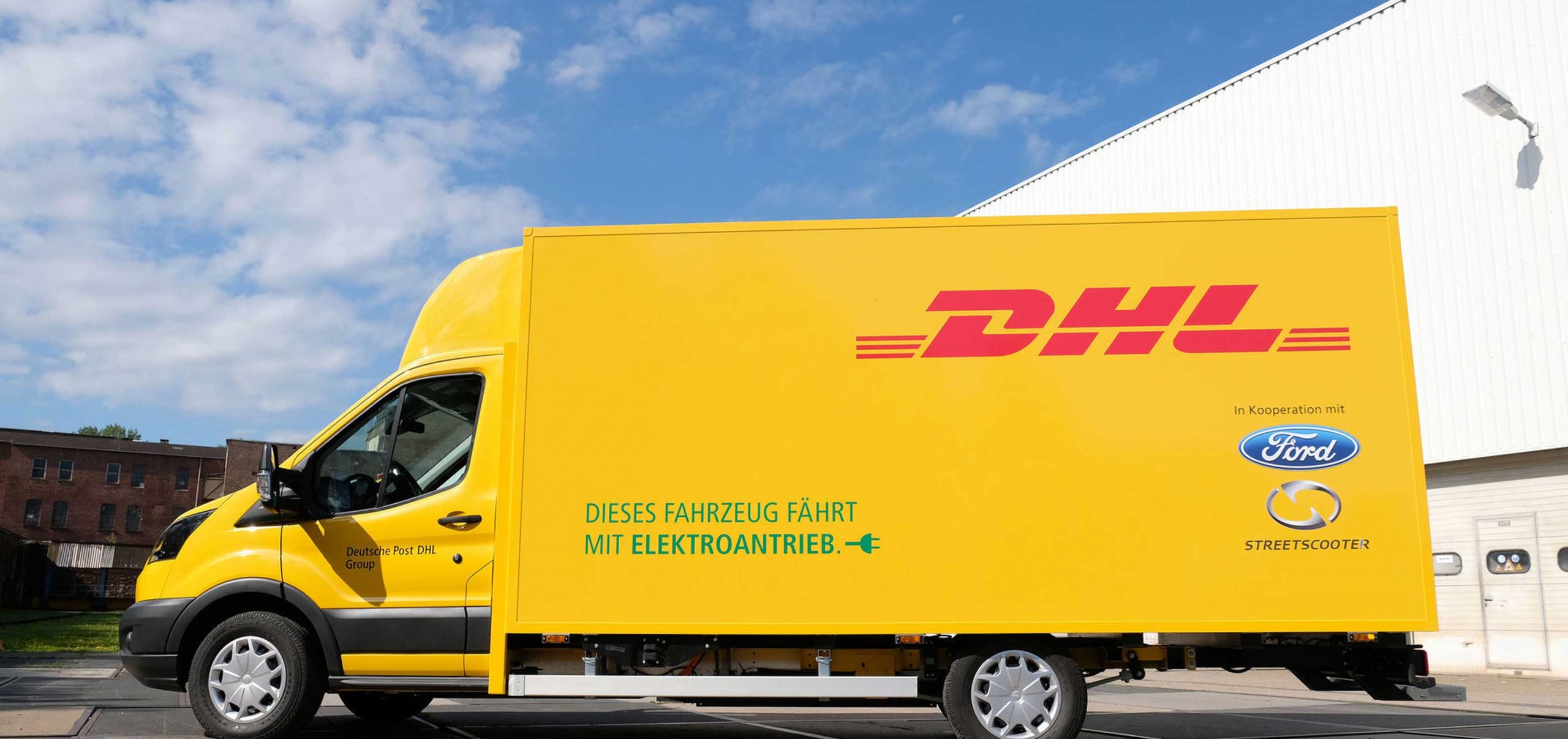 <!--[CDATA[
The WORK XL with even more cargo space is the latest development from the electro-mobility manufacturer StreetScooter. DHL Freight also relies on the emissions-free, quiet speedster. "E-Mobility is the future of logistics," says StreetScooter CEO Professor Dr. Achim Kampker. He adds: "Our new WORK XL, with its significantly increased load volume compared to the WORK and WORK L models, provides the necessary basis for this." 20 cubic meters of cargo space
At the IAA Commercial Vehicles, the Deutsche Post subsidiary StreetScooter GmbH unveiled the largest version of their electric vehicle. The transporter is based on the chassis of the Ford Transit and offers 20 cubic meters of cargo space with a payload of up to 1,150 kilograms. With the highest available capacity of 76 kWh, the lithium-ion battery allows for an estimated range of up to 200 kilometers. The top speed is electronically restricted to 90 kilometers per hour. 1,000 StreetScooter WORK XL will be launched for Deutsche Post later this year, but sales to other customers are also planned. Every vehicle saves 1,900 litres of diesel fuel per year and subsequently five tons of carbon dioxide emissions.
From the driver's cab to the cargo bay
The WORK XL StreetScooter is produced at the Ford plants in Cologne, where the electric drive and superstructures are assembled, and the chassis comes from the Ford plant in Kacaeli, Turkey. Around 180 Ford employees are working in two shifts in the plant in Niehl a suburb of Cologne to build up to 16 WORK XL per day. This provides an annual capacity of up to 3,500 verhicles. The XL differs from the already available WORK models with four cubic meters and WORK L models with eight cubic meters cargo volume not only in terms of size and range, but also in construction. The cargo bay is accessible from the driver's cab. The loading and unloading can take place at the rear and via a sliding door on the right side of the vehicle, i.e. on the safe sidewalk side.
Tool for process improvement
"With the WORK XL, we are consistently implementing our product philosophy: We see our StreetScooter as a tool that improves our customers' processes and it's a perfect fit for different companies in different industries," says Kampker. The WORK and WORK L models have already proven their suitability for everyday use: 8,000 StreetScooters are in use by Deutsche Post for letter and parcel delivery, having already covered more than 40 million kilometers and in this course reducing CO2-emissions by 26,000 tons per year.
Emissions-free through the exhibition hall
DHL Trade Fairs & Events (TFE), part of DHL Freight, has already made use of a StreetScooter in Berlin, at the European Athletics Championships in August, the quiet speedster transported athletic equipment throughout the capital. In October, TFE will commission a StreetScooter WORK L with high box body able to handle euro pallets in order to provide environmentally friendly, emission-free exhibition logistics.
Alliance with win-win-potential
The partnership between the Ford-Werke GmbH, Fords German subsidiary and StreetScooter is about much more than just the WORK XL production: The more than 50 Ford-Transit-Center agencies assume sales and service duties with regards to the two smaller models WORK and WORK L. On the other hand, Ford profits from the strengths of StreetScooter GmbH as an agile company and market leader for electric commercial vehicles in Germany. The Aachen based company yields enormous competence and innovative capabilities into the development of electrically driven transport vehicles, emphasizes Jörg Beyer, Managing Director, Product Development, Ford-Werke GmbH. The complete assembly line for the StreetScooter WORK XL has been built up in just a few month. "This joint project underlines that we as being a volume manufacturer, are also able to deliver smaller production runs, even if these are electric vehicles", says Jörg Beyer.
Ford-Werke GmbH in numbers
Founded 1925
40 million vehicles have been produced in the companies history
24,000 employees
Facilities in Cologne, Aachen and Saarlouis
Actual yearly production run of app. 800,000 vehicles